Grand Teton Brewing Releases Brett Saison Batch 2
(VICTOR, ID) – Grand Teton Brewing Company, known throughout the West for their exceptional craft brews, is proud to announce the second release in their Brewers' Series, Brett Saison.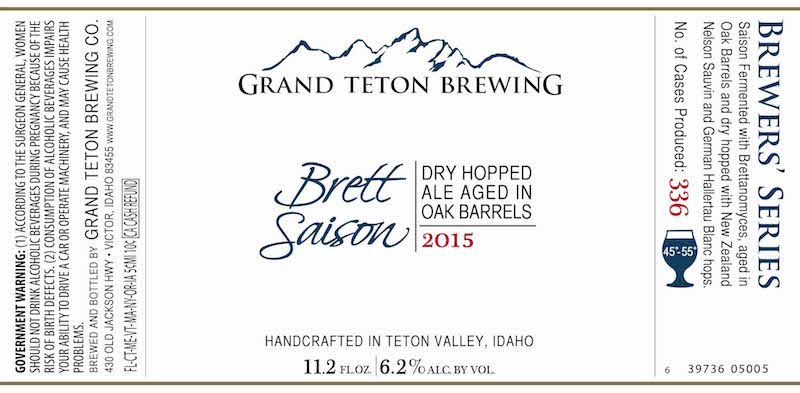 Grand Teton Brewing's second release in their Brewers' Series in bottles is a Dry Hopped Brett Saison aged in wine barrels. Starting with a Saison using traditional malts and hops, the brewers then pitched a simple yet complex strain of yeast: Brettanomyces Drei (Brett).
After the beer fermented to a low gravity resulting in a crisp, clean and dry beer, Grand Teton brewers transferred it to wine barrels where it aged for nine months. A few weeks before packaging, a blend of hops at a rate of 5 pounds per wooden barrel was added. The live Brett in this beer, as well as the generous amounts of unique and flavorful hops, makes this a great beer to drink fresh. It may also be cellared to further develop for years to come.
The Grand Teton Brewing Brewers' Series beers will include sours, fruit beers, blends, strong beers and first-time styles. Everyone at Grand Teton Brewing looks forward to enjoying the unique beers their talented team of brewers dreams up for their Brewers' Series.
Alcohol by Volume: 6.2% • Color (Lovibond): 6.0˚
Brett Saison is a very limited, one-time batch available in 11.2 ounce bottles and 1/6 barrel kegs.
Grand Teton Brewing was founded in 1988 as the first modern "micro" brewery in Wyoming. Their premium microbrews include the 15x Gold Medal Winning Bitch Creek ESB; 2014 Great American Beer Festival Silver Medal Winner 208 Session Ale; 2009 Great American Beer Festival Gold Medal Winner Sweetgrass APA; and, favorites of the Yellowstone and Grand Teton National Parks Old Faithful Ale, Howling Wolf Weisse Bier and Amber Ale. From their production facility in Victor, Idaho, Grand Teton Brewing beers are handcrafted from only the finest ingredients, including locally grown grains, Idaho grown hops and pure Teton Mountain spring water. Discriminating beer drinkers can find their favorite Grand Teton Brewing brews on tap and in bottles throughout California, Colorado, Idaho, northern Illinois, Kansas, Minnesota, Missouri, Montana, Nevada, North Dakota, North Carolina, South Carolina, South Dakota, Washington, Wisconsin and Wyoming.