Full Sail Celebrates The Holidays With Four Winter Beers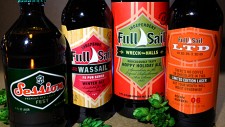 Hood River, OR – In Hood River, every year a few undeniable signs signal when winter is at the doorstep. The cool east winds begin to blow, Mt. Hood and Mt. Adams get a white blanket of fresh powder, and the snow report for the backcountry regains its trance-like hold. But most of all, we know its winter because Full Sail holiday beers start flowing once again.
"It all began back in 1988 when we began our tradition of holiday brewing with Wassail. Traditionally, these beers were a bit more of everything – malt, hops and alcohol – to emphasize a brewery's appreciation for its customers and to reflect the richness of the holiday season. So it is with Wassail and all our holiday offerings. Choosing our ingredients for Wassail is like taking time to choose the perfect gift. Each year we carefully select the best hops and malts to brew this special beer. This year's Wassail is brewed with a range of caramel malts and dark chocolate malts giving it a deep mahogany color and a full malty body, perfect for the holidays. We used a blend of European noble hops and Pacific Northwest aroma hops for a pleasantly hoppy finish creating a deliciously balanced beer that appeals to both hop and malt lovers alike. It's like our own little Christmas miracle," said Jamie Emmerson, Full Sail's Executive Brewmaster. Wassail will be available in 6 packs and on draft from October through December. ABV 7% IBU 56
Over time Full Sail has continued to add to their holiday presents. Wreck the Halls, in their Brewer's Share series, is a sublime hybrid of an American style IPA and a "Winter Warmer" style strong ale. The result is a bold beer that celebrates the holidays with an intriguing blend of Centennial hops that provide elegant citrus notes balanced by a backdrop of a rich caramel malt body. Wreck the Halls is dry hopped further, thereby amplifying the aroma and flavor. A perfect way to celebrate the season, Wreck the Halls will be available on draft and in 22oz bottles in early November through December. ABV 6.5%, IBU 68.
Session Fest is Full Sail's Session holiday beer that comes in a stubby little bottle, makes a great stocking stuffer, and is the perfect beer to leave by the fireplace for Santa or Santa's little helpers. According to Full Sail Executive Brewmaster, Jamie Emmerson, "Session Fest is a Czech-style strong lager (gotta love the Czechs!) called polotmavé or literally "light dark or semi-dark." Brewed with 2 Row Pale malt, Munich malt, Caramel malt and Wheat malt, and hopped with a blend of Glaciers and Cascades, Session Fest has a medium-to-full body balancing candy caramel and full malt flavors that are underscored by a spicy hoppiness that provides a nice perfume with citrus and pine overtones and a long clean finish. Session Fest will be available in 12 packs from October through December. 6.2% ABV 26 IBU.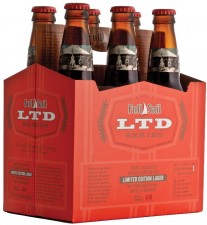 And this year Full Sail introduces their new holiday beer for their Limited Edition Lager series – LTD 06. LTD means limited edition, but according to Full Sail's Founder and CEO, Irene Firmat, at Full Sail it means something even more: Live the Dream. "We've been living out our dream: brewing beer, our own way, in one of the most beautiful places on earth. We dedicate our LTD Series to everyone who's living the dream, whatever that dream might be. Our passion for brewing beer was born from our experiences travelling throughout Europe and enjoying the richness of the brewing heritage of great lager beer styles. So with each LTD beer, we create our own individual passport back to these wonderful beer experiences showcasing an original lager recipe available only for a limited time." LTD 06, a black bock, is lush and full bodied with hints of roast, coffee, and chocolate in the aroma followed by flavors of caramel and figs with a long creamy smooth finish. LTD 06 is brewed as a Czech style Cerné Speciální with 2 row Pale, Munich, Caramel, and Chocolate Malts and hopped with Santiam and Perle hops. LTD 06 will be available in 6 packs and on draft from October through December. ABV 7.0% IBU 34.
"We have crafted all our beers to be great guests at your holiday celebrations and they are a wonderful addition to every holiday meal. All Full Sail beers share balance and nuance and help to inspire the camaraderie of the holidays. So come celebrate the holidays with us. Cheers from the Full Sail Crew!" added Firmat.
About Full Sail Brewing Company:
The independent and employee-owned Full Sail Brewery is perched on a bluff in Hood River, Oregon, overlooking the most epic wind and kite surfing spot in the world. At this very moment our specialists in the liquid refreshment arts are crafting barley and hops into your next beer. Among the company's most popular brews are Full Sail Amber, IPA, Pale, LTD, Wassail, Session Premium, Session Black, and Session Fest lager. Founded in 1987, the Full Sail crew has been fermenting godlike nectar for 25 years. Committed to brewing great beer and sustainable practices their award winning brews are now available in 29 states. The Full Sail Tasting Room and Pub is open seven days a week. Swing by for a pint, grab a bite, tour the brewery, or just soak up the view.
www.fullsailbrewing.com – @FullSailBrewing – Facebook