Saint Arnold Pumpkinator To Be Released On Oct 15th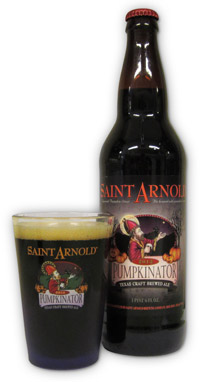 Pumpkinator, our imperial pumpkin stout, has been sitting in our tanks for the past two months and is now ready to make its annual appearance. It's spicy, malty and rich. And it has accumulated a World Beer Cup medal during the past year as well!
This beer is tasty to drink now, or at Thanksgiving dinner. Or at next year's Thanksgiving dinner. Or even Thanksgiving 2015!
Pumpkinator will be released on Monday, October 15. Many stores will have it that day, but some not receive it until a couple of days later. A limited number of kegs are also being released, but many pubs will hold onto their kegs to tap them at a later date. Watch our Facebook and Twitter feeds to find info on this. Also watch the Twitter hashtag #Pumpkinator on Monday to get info on which stores have received their delivery.
Pumpkinator is bottled in 22 oz bottles. While we brewed twice as much this year as last, we suspect this will only extend its availability by about 17 minutes.
Enjoy it in one of our brand new 10 oz Pumpkinator glasses – now available at the brewery.
Description:
Pumpkinator is a big, black, full of spice, full of flavor beer. Originally released in 2009 as Divine Reserve No. 9, it is an imperial pumpkin stout and our answer to how a pumpkin beer ought to taste. This year's version comes in at 10% ABV. It is brewed with a combination of pale two row, caramel and black malts, Cascade and Liberty hops for a background hop flavor, pumpkin for a rich mouthfeel, molasses and brown sugar, and spiced and dry-spiced to make it feel like you just walked into your mom's kitchen while she was cooking 37 pumpkin pies. It is the most expensive beer we have brewed.
A single batch of Pumpkinator will be released around every October 15. It is available in 22 oz. bottles and on draft.

This beer is best enjoyed at 50°F or warmer to bring out the spices and round body. Personally we have found it to be the perfect end to a Thanksgiving meal from a flavor standpoint. Some have said it makes relatives more enjoyable too.

OG: 1.094 – Color: Black – ABV: 10%