Founders Brewing Announces Tennessee Distribution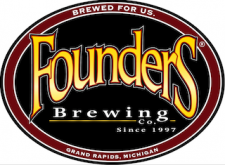 Grand Rapids, MI – Founders Brewing Co. announced today that it is expanding its distribution territory to include the Volunteer State, with a network of distributors slated to represent the brand across almost the entire state of Tennessee beginning in April.
"We've been distributing in most of the states surrounding Tennessee for years," said Co-Founder and CEO Mike Stevens. "Beer enthusiasts in Tennessee have been growing the craft beer scene, and they've been patient with us. We're excited to be able to bring our beer to them."
Founders distribution coverage will include the four major metropolitan areas of Nashville, Memphis, Chattanooga and Knoxville. Residents of Tennessee can expect to find Founders' year-round and seasonal products on draft in the first shipment. Bottles will begin arriving in the next shipment, and specialty releases will follow the brewery's release schedule from there.
Founders recently announced distribution in Oklahoma, Arkansas and Louisiana in addition to Tennessee, bringing the brewery's total distribution footprint to 31 states. For a list of all the states in which Founders is available and the brewery's 2014 availability calendar, visit foundersbrewing.com.
www.foundersbrewing.com – @FoundersBrewing – Facebook