Saint Arnold Icon Brown Porter Now Available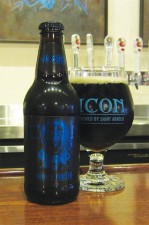 Houston, TX – The Newest Beer in Saint Arnold Brewing's Icon Series, Brown Porter is Now Available. You've been asking us for many years to brew a porter, and we thought the Icon series was the perfect way to introduce one. Brewer Dennis Rhee has been working on this one for a couple of years.
Here is his description:
"This beer pours a dark brown/black color with ruby/garnet highlights and an off-white head. The aroma is predominantly chocolate with hints of nuttiness and lightly roasted coffee. The Saint Arnold yeast contributes mild esters, giving depth and balance. Chocolate and roast are the primary flavors in this sessionable ale, with a distinct sweetness coming through as the beer warms up."
Learn more about Icon Blue – Brown Porter.
You can find Icon Blue in four packs at your favorite grocery and liquor stores and on tap at bars and restaurants around town.
www.saintarnold.com – @SaintArnold – Facebook