Founders Breakfast Stout Marks The Opening of Stout Season!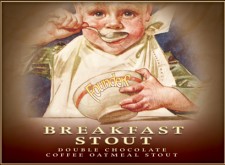 We are excited to announce that 2012 Breakfast Stout is available on tap across our footprint beginning today, marking the official opening of Stout Season!
Here's what Breakfast Stout is all about:
The coffee lover's consummate beer. Brewed with an abundance of flaked oats, bitter and imported chocolates, and Sumatra and Kona coffee, this stout has an intense fresh-roasted java nose topped with a frothy, cinnamon-colored head that goes forever.
8.3% ABV, 60 IBUs
Breakfast Stout will be available through February 28, 2013.
More information about the release of Breakfast Stout can be found on our blog here.