Surly Hell Now 'Year Round Thanks to Mom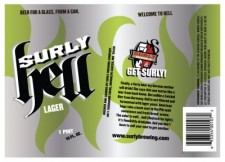 Here is a quick note from Surly owner Oma, in which he explains that Surly Hell will be a year round beer from now on. Cheers!
It's great to celebrate the seasons with a seasonal beer, and for a few years, we've been celebrating summer with our German Lager, Hell. My Mom got snarly because she could only get it in the summer, so we decided to brew it year-round. She also threatened not to baby-sit anymore, so that made it an easy decision. Well, now you don't have to wait – we're adding Hell to our year-round roster of beers. Seriously, you can now add Hell to your tailgate beer list, you can bring in the New Year with a Hell and you'll still be able to enjoy it through the summer. So bring on eternal Hell… cheers!