Fuller's Vintage Ale 2012 On Sale Now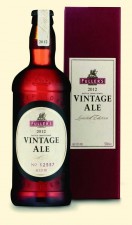 London brewer Fuller's has released its latest version of the Vintage Ale range, a limited-edition brew made with the choicest ingredients from this year.
The 16th Vintage Ale, for the second year running, uses organic Barley grown on Sir James Fuller's Neston Park Estate in Wiltshire, which has been specially floor malted by Warminster Malt for Fuller's.
The English hops used for both brewing and dry hopping included the choicest Goldings, Target and Organic Sovereign, from Fuller's Hereford Organic Hop grower John Walker.
Tasting of the 8.5% ABV amber ale reveals an initial aroma of ripe autumnal fruits with slight notes of rosehips, leading on to a smooth middle palate with just a hint of spice. There is a pleasant hop bitterness, which is then finished with a satisfying orange peel flavour and alcohol warming on the aftertaste.
Fuller's Head Brewer John Keeling is very pleased with this latest incarnation of the special series; "The early tasting notes for this rich brew are already revealing what we hope will be another genuinely Vintage beer."
"Vintage Ale is a truly distinguished bottle-conditioned ale. Each Vintage is a blend of that year's finest malt and hops, and of course our unique yeast, which creates a special limited-edition brew that will only get better with time."
"I suggest buying a few and trying one now, trying one in five years and trying one in ten years, to see how the flavors have developed and matured."
There are only a limited number of each year's Vintages produced, and the individually-numbered 500ml bottles are on sale exclusively in the USA from Fuller's importer Paulaner HP USA.
With some earlier Vintages, such as 1997 and 2000, already completely sold out at the brewery, make sure you get a bottle of this latest unique bottle-conditioned brew from the only remaining family brewer in London.
Notes: Although we are obliged to state a Best Before Date of 2015, like a fine wine or whisky, this mellow, bottle-conditioned ale will improve with age for many more years.