Firestone Walker Pivo Hoppy Pils Aims To Liberate American Pilsner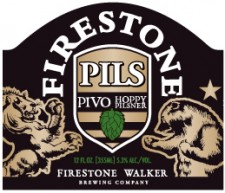 (Paso Robles, CA) – With its new Pivo Hoppy Pils, Firestone Walker Brewing Company is aiming to kick the doors down and help liberate the pilsner style in America.
"Lighter beer styles like pilsner have been hijacked by industrial lager beer in the United States, and it's time for craft brewers to take it back," says Brewmaster Matt Brynildson. "Pivo Hoppy Pils is our contribution to the cause."
Pivo Hoppy Pils is a classically rendered pilsner with a West Coast dry-hopping twist. Brynildson cites influences from Germany, Italy and the Czech Republic as instrumental in the development of Pivo Hoppy Pils. Along the way, the brewing team sought to accentuate the traditional pilsner profile with an extra measure of hop character that is reflective of the American craft beer revolution.
"A lot of pilsners have the malt element down, as well as the dryness and drinkability, and even the bitterness—but they lack hop aroma," Brynildson says. "We're trying to elevate that hop aspect, but we don't want to beat you over the head with it. I think it makes for a very interesting beer that remains true to the pilsner style with a lot of drinkability."
He adds, "Authentic craft pilsners are still relatively rare. With Pivo Hoppy Pils, we want to do justice to the style and to help the beer drinker rediscover American pilsner as a serious beer."
Pivo Hoppy Pils will be released in six-packs starting on May 15 in select markets. Expanded draft distribution will commence on May 15 as well.
Below are additional brewing details and tasting notes on Pivo Hoppy Pils:
A Brewer's Beer…
"Pivo Hoppy Pils is a brewer's beer," Brynildson says. "At the big beer events, after all the hoopla is over, it is typical for a few of us brewmasters to meet afterward at some bar down the street, and we all order pilsner beers to clean the palate. It's like a razor that scrapes all the double IPAs off our tongues."
He adds, "Pilsner is one of the most difficult beers to perfect. It seems so simple and commonplace in the world. It's so light, yet it incorporates so much, which is why any off flavor just comes screaming out. It's this naked beer that doesn't hide anything."
German Ingredients, International Inspiration
Pivo Hoppy Pils is made with 100 percent German malt, yeast and hops, including the new German Saphir used for dry hopping.
Brynildson says that Pivo Hoppy Pils blends aspects of the more hop-driven Czech pilsner style with the bright refined dryness of the German model—along with a New World aromatic twist courtesy of the dry hopping.
"Oddly enough, the original inspiration for this beer comes from Italy," Brynildson says. "It's a dry-hopped pilsner called Tipo Pils made by Agostino Arioli at Birrificio Italiano, just over the Swiss Alps from Germany in Northern Italy. Ever since I first tasted it, I've been dreaming about making a dry-hopped pilsner."
Tasting Notes
Pivo Hoppy Pils is a bright straw colored lager beer with playful carbonation topped with beautiful white foam lace. Delicate lightly kilned malt flavors underscore noble German hop character. Hallertau-grown Magnum hops deliver the lupulin foundation while generous amounts of Spalter Select hops bring  floral aromatic and spicy herbal notes. As a twist on the traditional Pils, we dry hop with German Saphir for a touch of bergamot zest and lemongrass. A refreshing, light-bodied and hop-driven Pils.
The Pivo Glass
At the brewery's tasting room and restaurants, Pivo Hoppy Pils is presented in a branded pilsner glass produced by Sahm of Germany. Brewmaster Matt Brynildson chose Sahm's slender Sinus model glass to showcase the beer and create the perfect drinking experience. This glass generates excellent nucleation for optimal head retention. The glass is being deployed to accounts to maximize customer enjoyment of the beer, and it is also available online at FirestoneBeer.com.
Pivo Hoppy Pils Lowdown
ABV: 5.3%   IBU: 40   Color: 4SRM
Malts: Weyermann Pils
Hops: German Magnum, Spalter Select, Saphir
Retail: $9.99 six pack.
 Follow Firestone Walker on Twitter