WSU Hop Researchers Learn Advanced Brewing Techniques From Sierra Nevada Brewing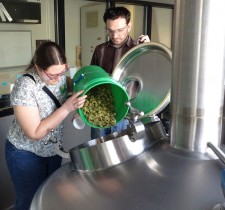 Prosser, WA – In 1980, Sierra Nevada Brewing Co. founder Ken Grossman effectively put the Cascade hop of Yakima, Wash., on the map. The hop was central to the pale ale that made Grossman's company a household name.
More than three decades later, Washington State University researchers studying optimal brewing qualities with that same hop recently interned with Sierra Nevada master brewers to hone their brewing skills and learn advanced brewing methods that are being pioneered by American craft brewers.
Optimal quality, quantity
Scientists at WSU's Irrigated Agriculture Research and Extension Center (IAREC) in Prosser are investigating the ways agronomic practices, including irrigation, plant nutrition and pest and disease management, affect hop yields and, just as important, the brewing quality of hops, according to Douglas Walsh, professor and integrated pest management coordinator.
"For craft brewers, the quality element is extremely important, since their customers truly appreciate the vital flavors that hops contribute to their brews," Walsh said. "Craft brewers use hops in new and innovative ways.
"Fortunately for Washington state hop growers," he added, "hops are used in much greater quantities per barrel in many craft brews than in the lager-type brews from traditional large-scale brewers.
"We will be the research bridge between the brewer and Washington state hop growers in developing the production practices that help the growers deliver hops with the optimal properties desired by brewers," he said.
Strong demand for Washington hops
Business is, excuse the pun, hopping for Washington state hop growers. On roughly 23,000 acres, the state produces more than 90 percent of U.S. hops and about 25 percent of world supply, Walsh said. Washington ranks second only to Germany in global hop production.
"Over 50 percent of the hops produced in Washington are exported and, as is generally known, hops are the key flavoring spice in the 51 billion gallons of beer consumed annually worldwide," he said.
Sierra Nevada is a flagship brewer of the American Craft Brewers Association, a major stakeholder group of WSU's hop research program, Walsh said. But historical and geographical ties existed between the brewing company and central Washington long before this partnership began.
According to the Sierra Nevada website, Grossman drove from the future home of Sierra Nevada in Chico, Calif., to Yakima in the late 1970s and persuaded hop brokers to sell him 100 pounds of "brewers cuts," or samples sent to breweries to try before they purchase 200-pound bales.
"On those early trips to Yakima for hops, Ken fell in love with the flavors and aromas of the Cascade hop," the website explained. "The pure and intense citrus-pine flavors were like nothing else. That hop became one of the signatures of Sierra Nevada and, in turn, the hop that helped to define the West Coast style of brewing."
"Cascade as a hop variety has become one of the preferred hop varieties of the American Craft Brewers Association," Walsh said.
Coming soon: Cougar Crimson Ale
In March, Ruth Henderson, postdoctoral researcher, and Dan Groenendale, field research director of the IAREC's environmental and agricultural entomology laboratory, spent three days in Chico learning about Sierra Nevada's brewing techniques from the company's master brewers. With the knowledge they acquired, Henderson and Groenendale will brew beers for sensory analysis trials by food scientist Carolyn Ross in Pullman and by American Craft Brewers Association members.
In particular, Henderson said, she and Groenendale learned how to prevent oxidation in beer, which occurs when oxygen gets into beer after fermentation. This gives the beer a harsh, bitter aftertaste.
Based on the Sierra Nevada brewers' recommendations, the WSU research team has moved to a closed system, fermenting beer in sealed kegs and moving it from one container to another using pressurized carbon dioxide so that oxygen never touches it.
"From now on, the only bitterness in our beer will come from the hops," Henderson said.
"The folks at Sierra Nevada are meticulous when it comes to the quality of their beer," she said. "They make sure it comes out excellent every time. What we learned from them is how to treat our brews like they do theirs, but on our small scale and with the equipment we have on hand."
Henderson and Groenendale also received advice on choosing combinations of grains and hops to make a tasty, balanced beer when creating a new recipe. Henderson is putting these ideas to the test now in her recipe for the new Cougar Crimson Ale.
"It will be an IPA (India pale ale)-style beer with a natural red coloration from the grains I am using to make it. No food coloring needed," she said. "I will be hopping it with whole, dried hop cones grown and harvested right here at the Prosser research station. Here's hoping my tasters enjoy it."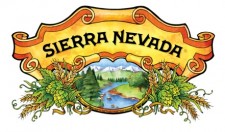 About Sierra Nevada Brewing Co.
Founded in 1980, Sierra Nevada Brewing Co. is one of America's premier craft breweries, highly regarded for using only whole-cone hops and the finest quality ingredients. The pioneering spirit that launched Sierra Nevada spans more than three decades, with innovation emerging from both the brewhouse and sustainability initiatives. Sierra Nevada has set the standard for artisan brewers worldwide as a winner of numerous awards for its extensive line of beers including Pale Ale, Torpedo®, Porter, Stout, Kellerweis® and a host of seasonal, specialty and limited release beers.
www.sierranevada.com – @SierraNevada – facebook