Evan Price & Brian Rauso Launch Green Cheek Beer Co.
Earlier this year, Evan Price of Noble Ale Works left his post as Head Brewer. For those who might not be familiar, Evan is a highly decorated brewer who took the reigns of a fledgling startup brewery in Anaheim (Noble) and turned it into one of the hottest craft beer destinations in all of Orange County in a rather short amount of time.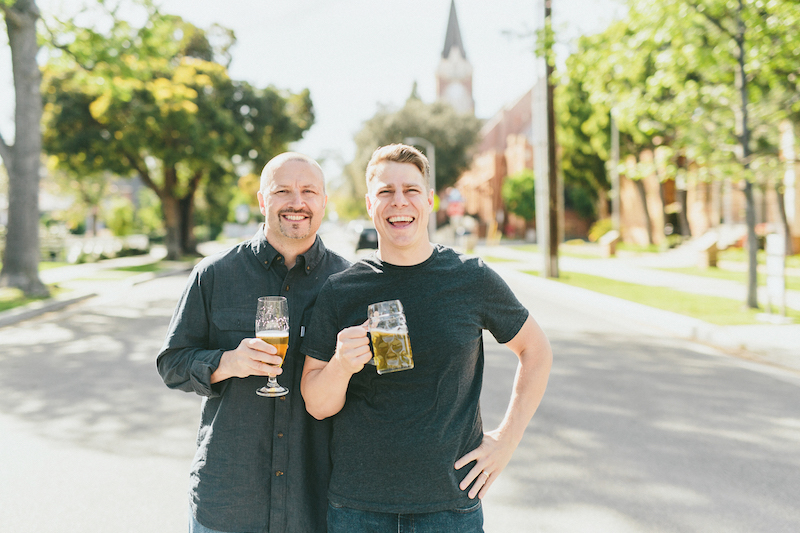 Prior to Evan's departure, there was a bit of a shakeup in management over at Noble, in which CFO Brian Rauso wound up leaving.  While we wondered what was up with these sudden departures, we knew that no matter where Evan wound up, good beer would follow, and that Noble is still in very capable hands without the presense of Evan.
The Full Pint learned right after Evan left Noble in January that he would reunite with Brian and would open up a brewery. Until three weeks ago, lips were sealed as to what this dynamic duo had planned.  All of a sudden, Valiant Brewing's supply chain got wind of a possible deal in which Evan and Brian would take over Valiant and tipped us off. We verified through Evan but held off on the great news until the deal finalized. In a nutshell, Valiant Brewing of Orange County was unsuccessful in remaining as a business, and was able to sell their modern, fairly new brewhouse to Evan and Brian.  The new brewery name? Green Cheek Beer Co.
We sat down with Evan Price to learn more about this new and exciting venture.
TFP: How long has this project been in the works?
Evan: We've been talking about it for a little while now, but this particular deal fell into our laps about two months ago, as Valiant was looking for a clean exit.
TFP: So what exactly did you guys purchase? Will you guys be taking over Valiant's operation or will you be starting from scratch?
EP:  This was an acquisition of assets only.  We don't own the Valiant name, any of the remaining stock, debt or employment agreements.  Valiant started up with some pretty rad, high tech brewing equipment, and with various sized vessels.  This will allow us to brew with great efficiency and will allow us to experiment on batches at different sizes, rather than just going from small to big.  Valiant purchased some really nice equipment with some addons that we are excited to start using.
TFP: So tell us about the name, Green Cheek Beer Co.?
EP:  We have these beautiful green, loud parrots here in Orange County called Green Cheek parrots. They are very social, like us, so that's our inspiration. We will be unveiling our branding shortly, created by It's Called Design.
TFP: When will you be opening and what will your core lineup look like?
EP: We are aiming for the end of May, but that's not locked in yet.  To our advantage, we already have a brewhouse in place. As for core beers yet, nothing is set in stone.
TFP: Compared to the fun beers you made over at Noble, what will be the theme in terms of the beer?
EP: I'm known for my IPAs, so for sure we'll be coming out of the gate with some IPAs. We'll be making some cool adjunct beers as well.
TFP: What will separate Green Cheek Brewing from Noble Ale Works?
EP: We will be also focusing on a modest sized barrel program where we can produce some sour and wild ales. We also want to make some cool adjunct stouts that we hope people love.
TFP: What kind of packaging will Green Cheek be doing?
EP: We're hoping to put our non-hoppy beers in bottles, most likely our Brett beers, and will be canning our IPAs.  One of our first canning projects will be a hazy IPA collab with our friends up at Cellarmaker.
TFP: Uh oh, did you say Hazy IPA?
EP: It just so happens that's the type of beer we'll be making with Cellarmaker, but it won't define us. We aren't going to say no to the haze, but we aren't going to sell out what's true to us and just crank out nothing but haze bombs. There will be a balance.
TFP: Will Green Cheek Beer Co head to the Great American Beer Festival this year?
EP: We won't have a booth but we will be entering some beers for sure!
Green Cheek Beer Co. is located at 2294 N Batavia St C, Orange, CA 92865, stay tuned for Grand Opening announcement.