Double Mountain Cluster Single-Hop IPA Hits Limited Distribution
(Hood River, OR) – Double Mountain Brewery & Taproom's Cluster Single-Hop IPA hits the market in reusable half-liter bottles available in limited quantities in Oregon, Washington, California, and the Vancouver, B.C. area. This hop-forward beer will be available on draft as soon as June 12th, 2014 and can be found on retailer shelves after June 15th, 2014. It is currently available at the Double Mountain Taproom in Hood River, OR.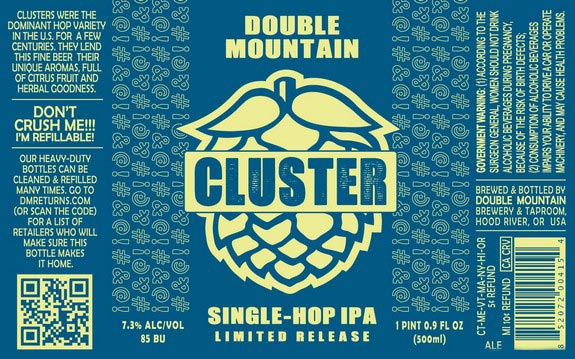 Double Mountain has been ringing in the summer with this bold hopped IPA every June since 2011. Cluster hops were the dominant hop in the US brewing industry for centuries, and the forerunner of many modern Northwest hop varieties. They have a distinctive citrus aroma and strong herbal notes. The Cluster recipe features Clusters in the kettle, in the hop back, and chiefly in the fermenter for dry-hopping. Pilsner and honey malts are used to form the baseline add harmony to this bight, yet hoppy IPA. 6.6% ABV, 75 BU
Brewer Matt Coughlin excitedly describes the 2014 batch of the Cluster IPA, "This year's Cluster has a sunny glow, and it dried out really well. It's cluckful of flusters, and with the dryness the hop aroma really pops."
Portland Draft Release Party:
Date: Thursday, June 12th, 2014
Location: Oregon Public House, 700 NE Dekum St, Portland, OR 97211
Time: 5:30pm-8:30pm
Portland Bottle Release Event:
Date: Friday, June 13th, 2014
Location: Whole Foods, 4301 NE Sandy Blvd, Portland, OR 97213
Time: 4pm-7pm
Seattle Release Party
Date: Thursday, June 26th, 2014
Location: Copper Door, 12 North Tacoma Ave, Tacoma, WA 98403
Time: 6pm
About Double Mountain Brewery and Taproom
Double Mountain Brewery and Taproom was established in 2007 in the heart of downtown Hood River, OR. Founders Matt Swihart and Charlie Devereux opened the brewery with a clear mission: make great beer for craft beer fans. Double Mountain Brewery's unique location lends to not only using pure and clean glacial water for their beers, but they also take advantage of regionally grown hops. Double Mountain Brewery and Taproom's unfiltered and long-aged beers deliver maximum flavor and character. They can be found on tap and bottles throughout the Pacific Northwest and Southern California.
www.doublemountainbrewery.com – @DoubleMountain – facebook