Bolero Snort Releases New Seasonal, Grazer
(Ridgefield Park, NJ) – The dog days of summer are upon us and nothing beats the heat than a nice cold beer. Bolero Snort introduces its latest seasonal release – Grazer. Grazer will be available on draft and in four packs of 12oz bottles. It hits Bolero Snort's self-distribution network beginning Friday, June 13th.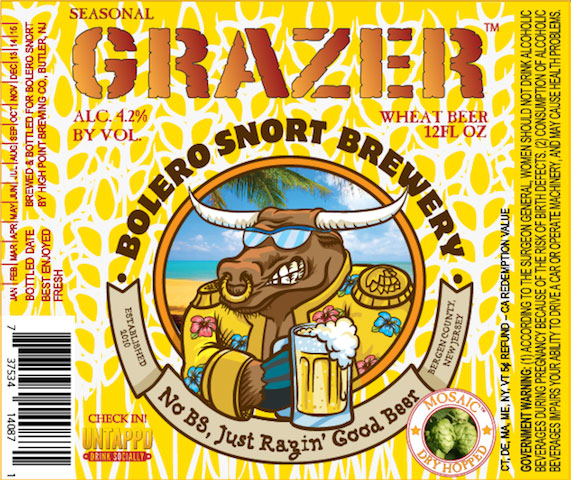 At just 4.2% ABV, this refreshing wheat beer is the perfect way to cool off after a hard day's work (or some fun) in the sun. Grazer is slightly hazy with a silky mouthfeel and flavors reminiscent of crisp, cool honeydew. Ample dry hopping exclusively with MosaicTM hops gives this quaffable summer libation an aroma of melon and tropical fruit.
So tackle that yard work, then grab one…just watch out for those lawn gnomes!
Pairing Notes:
Appetizer: Caprese Salad with Vinaigrette
Entree: Crab Cakes, Ceviche
Cheese: Chevre, Camembert
Dessert: Pineapple Upside Down Cake
Bolero Snort Brewery
65 Railroad Avenue
Ridgefield Park, NJ 07660
Ph: 201-464-0639
www.bolerosnort.com – @BoleroSnort – facebook