Double Mountain Brewery Carrie Ladd Steamship Porter Makes a Return
(Hood River, OR) —  After a two year hiatus Double Mountain Brewery & Taproom brings back Carrie Ladd Steamship Porter. This robust porter is available in bottles and on draft in the Double Mountain Taproom located in downtown Hood River and will also be found throughout the Northwest, British Columbia, and Southern California mid-February.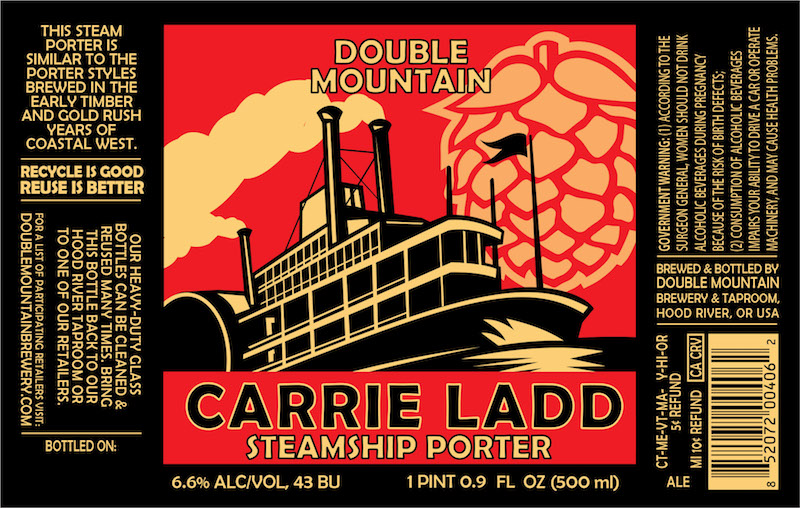 "I couldn't be more excited to see the Ladd back. It is one of my favorite beers. It tastes great, drinks easy and defies categories. Doesn't get any better than that!" –Head Brewer Kyle Larsen
Carrie Ladd
Steamship Porter
6.6% ABV, 43 BU
Description: This beer is a tribute to the Steamship Carrie Ladd that ran freight and passengers from Portland to the Cascade Rapids (Cascade Locks) from 1859 to 1862. We ferment this beer with Czech Lager yeast at ale temperature to temper the sulfur that this yeast tends to throw. The unique ferment temperature provides a fresh bread aroma with light cherry fruit overtones to this already rich, roasted, and robust porter. This style was popular among the pioneers that flocked to the coastal Northwest for the gold and timber rush.
About Double Mountain Brewery and Taproom: Double Mountain Brewery and Taproom was established in 2007 in the heart of downtown Hood River, OR. Founders Matt Swihart and Charlie Devereux opened the brewery with a clear mission: make great beer for craft beer fans. Double Mountain Brewery's unique location lends to not only using pure and clean glacial water for their beers, but they also take advantage of regionally grown hops. Double Mountain Brewery and Taproom's unfiltered and long-aged beers deliver maximum flavor and character. They can be found on tap and in bottles throughout the Pacific Northwest and Southern California. Learn more at www.doublemountainbrewery.com