Dogfish Head Releases Two New Beers for March
(MILTON, DE) — On March 1st, two new Dogfish Head beers that will bring fans out of winter hibernation will begin hitting taps and retail shelves. Inspired by art and music, these two limited edition brews spotlight Dogfish's ongoing commitment and connection to a variety of creative outlets.
The rookie in Dogfish's celebrated line up of India Pale Ales (IPAs) is the new spring seasonal Romantic Chemistry. With hints of mango, apricot and hops, this golden amber brew clocks in at 7.2% ABV and 40 IBUs. The name Romantic Chemistry is a play on the chemical connection between the three primary ingredients. Myrcene, the component of essential oil found in apricots, mangos and hops contributes both piney and citrusy aromas and flavors. Working in tandem, these three ingredients create a smooth IPA with a lingering aroma of tropical fruits.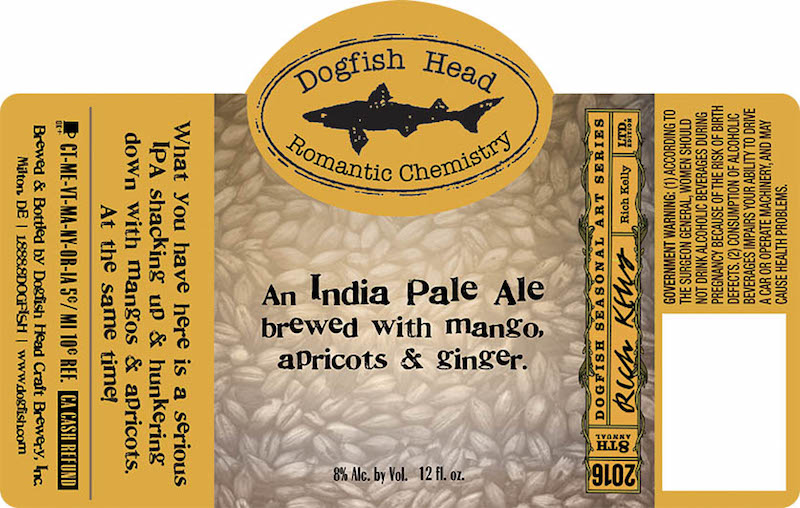 "We've been creating and selling fruit-infused IPAs since 1997," says Dogfish founder and president Sam Calagione "and with Romantic Chemistry we found the perfect flavor and aromatic interaction between three chemically-related ingredients."
Dogfish has always been a strong advocate for the art community and continues its support by featuring original custom illustrations on its bottle labels. Artist Drew Millward, who has created iconic artwork for bands such as Foo Fighters and Phish, designed the label on Romantic Chemistry. He interpreted the flavors of the beer into a vibrant, abstract image by illustrating his version of peaches, mangos and hops. Featuring pops of color such as orange, green and blue, Millward cleverly used these contrasting colors to create an eye- catching and intricate design. Millward also illustrated the labels of three other Dogfish seasonals to be released later this year.
The other highly anticipated new release is Beer To Drink Music To, Dogfish's liquid tribute to Record Store Day, a celebration of the unique culture of independent record stores. It is a natural partnership for Dogfish, an independent brewery known to make 'Analog Beer for the Digital Age' to create the official beer for Record Store Day.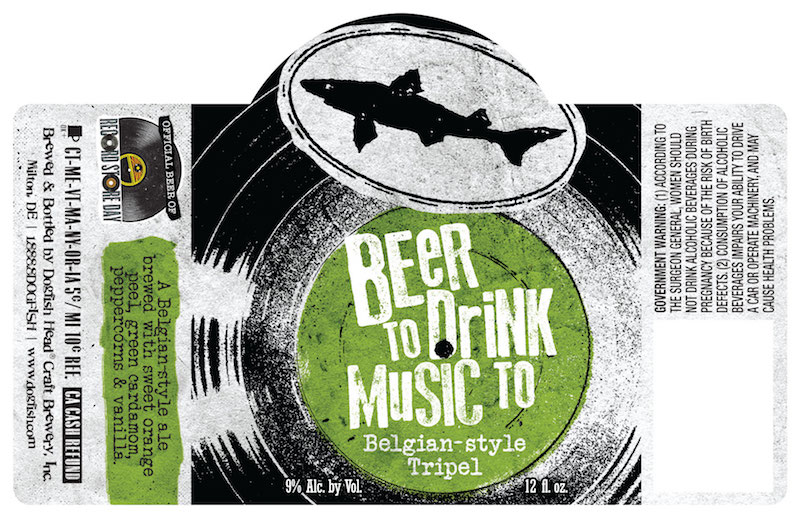 Beer To Drink Music To was created as the perfect beer for fans to pair with their favorite songs. Dogfish has been fueled by music since the day it opened its doors. Utilizing ingredients inspired by some of Dogfish's favorite tunes, the four primary
ingredients (orange peel, peppercorns, candi sugar, and cardamom) were inspired by the following: Orange Crush by REM, Sgt. Pepper by The Beatles, Sugar On My Tongue by Talking Heads, and Mock Song by Phish. The result is a Belgian-style Tripel and a perfect marriage between beer and music. Clocking in at 9% ABV and 30 IBUs, Beer To Drink Music To is a golden orange brew with forward notes of toffee, cardamom and cloves and subtle notes of vanilla.
"The enjoyment of a beautiful beer with an amazing album at the same time is an exponentially awesome experience," Calagione says. "This beer is purposely built for this ideal."
In addition to the beer, Dogfish will be putting out a poster, t-shirt, record player and a vinyl in collaboration with Record Store Day. The t-shirt and record player will be available for purchase at dogfish.com beginning mid-February. The poster and vinyl will be available throughout independent record store locations.
Dogfish's current distribution territories includes: AZ, CA, CO, CT, DC, DE, FL, GA, IL, IN, KY, MA, MD, ME, MI, NC, NH, NJ, NV, NY, OH, OR, PA, RI, SC, TN, TX, VA, VT, WA, WI. For more information, please visit www.dogfish.com.
Dogfish Head Craft Brewery
Dogfish Head is the first American craft brewery to focus on culinary-inspired beer recipes outside traditional beer styles and it has done so since the day it opened with the motto. "off- centered ales for off-centered people." Since 1995, Dogfish has redefined craft beer and the way people think about beer by brewing with unique ingredients. Today, Dogfish is among the fastest-growing breweries in the country and has won numerous awards throughout the years including Wine Enthusiast's 2015 Brewery of the Year. Dogfish Head has grown into a 200+ person company with a restaurant/brewery/distillery in Rehoboth Beach, a beer-themed inn on the harbor in Lewes and a production brewery/distillery in Milton, Delaware. Dogfish Head currently sells beer in 31 states.