The Lost Abbey & Wicked Weed Brewing Ad Idem Release Details
(San Marcos, CA) – After a year of conceiving, brewing, and blending, an idea shared between like minds at The Lost Abbey and Wicked Weed Brewing will finally see the light of day. Ad Idem, a French oak-aged golden sour ale with peaches and Brett will be available for purchase online February 24th starting at 12pm PST.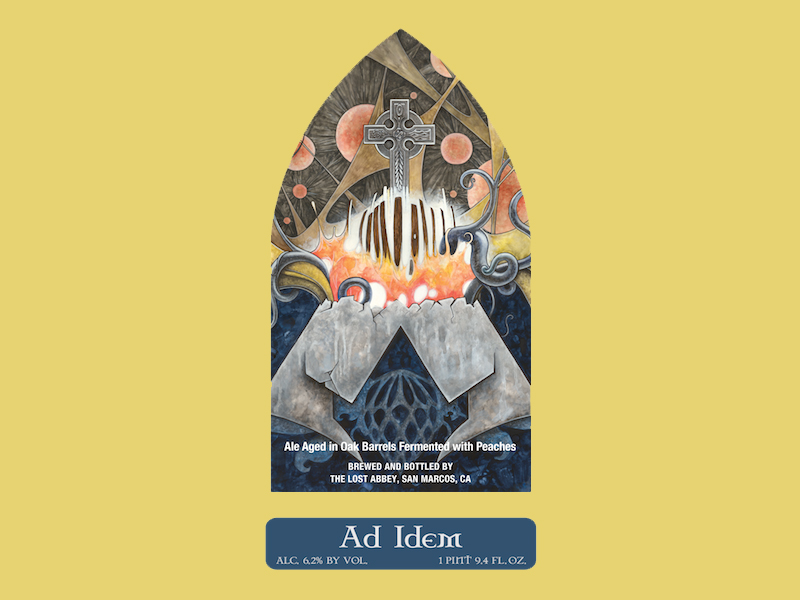 A project originally imagined in November of 2014, the first steps to achieving the shared vision were initiated in February 2015 as The Lost Abbey crew made their way to snowy Asheville, NC to brew the first half of the final beer. Two beers were brewed with the intent of blending; a Brettanomyces blonde ale and a sour blonde ale aged in neutral wine barrels on whole, local peaches.
In March of 2015, brothers Walt and Luke Dickinson from Wicked Weed returned the favor and flew to sunny San Diego to brew the second half; a batch of spontaneous fermented beer aged in French oak barrels.
While an early version of Ad Idem made it's preview appearance at the 2015 Great American Beer Festival, the final blend spent an additional four months maturing. The resulting culmination showcases how the stone fruit in the barrels played along with the blend of bacteria and yeasts from both breweries.
"From the moment we agreed on this conceptual blend, the goal was a synergy of brewing thought and methods," said Tomme Arthur, Co-Founder and COO of The Lost Abbey. "This passion project is about like minds and spirits converging on one concept, creating a vision that will continue to grow throughout the years. Walt and I have already started to discuss what the next Ad Idem should become. "
The online sale commences Wednesday, February 24th at 12pm (Noon, PST) with a 4 bottle per person limit at $41 (service charge included). Pickup for Ad Idem is scheduled for Saturday, March 19th and Sunday, March 20th. Links and additional info will be made available on The Lost Abbey blog (lostabbey.com/blog) and across The Lost Abbey's social media network.
Patrons closer in proximity to Wicked Weed in North Carolina can look forward to the brewery conducting a separate online sale in the coming months. Details released across their social media channels as they become finalized.
About Port Brewing / The Lost Abbey / The Hop Concept
Founded in 2006, Port Brewing and The Lost Abbey produce an extensive line-up of continental and American- inspired ales and lagers. Under the direction of visionary brewmaster and co-founder Tomme Arthur, the brewery has garnered dozens of awards including the 2007 Great American Beer Festival Small Brewery of the Year, The 2008 world Beer Cup Champion Small Brewery and the 2013 Champion Brewery at the San Diego International Beer Festival. The company's beers, many of which are aged in oak barrels for 12 months or longer, are universally recognized for their complexity, unique flavors and bold boundary-pushing styles. For more information, contact Port Brewing / The Lost Abbey / The Hop Concept at 155 Mata Way, Suite 104, San Marcos, CA 92069, telephone (800) 918-6816, and on the web at www.LostAbbey.com
ABOUT WICKED WEED BREWING
Wicked Weed Brewing is based in Asheville, North Carolina. Opened in December 2012, the original brewpub (91 Biltmore) consistently hosts 25+ beers on tap including hop-forward, West Coast-style ales, open fermented Belgians, and barrel-aged beers. With the opening of the second location, The Funkatorium, in October 2013, Wicked Weed is striving to become one of the leading producers of barrel-aged sour and wild beers in the Southeastern United States. Wicked Weed Brewing was awarded a gold medal for both 100% Brettanomyces Serenity in 2013, Mompara Honey Ale in 2014, and a silver medal for Pernicious IPA in 2015 at the Great American Beer Festival. Wicked Weed most recently opened 50-barrel production brewery that will allow for wider distribution on the East Coast. Currently the brewery is distributing in limited quantities in North Carolina, Georgia, and Massachusetts.
Learn more at www.wickedweedbrewing.com and on Facebook at http://www.facebook.com/WickedWeedBrewing.