Coronado Brewing to Open New Facility at Imperial Beach Bikeway Village
(San Diego, CA) – Coronado Brewing Company is excited to announce plans for a new facility in the country's most southwesterly city, Imperial Beach. The project is part of Imperial Beach's revitalization at Bikeway Village, and Coronado Brewing will be an anchor of the new development. The site plan consists of two 15,000 sq. ft. buildings, one of which will house Coronado Brewing and the other will be home to a local coffee shop, bike shop, and additional retail. Studio E Architects brought life to the formerly dilapidated space through a dramatic color-scheme, large-scale Alaskan cedar trellises, and corrugated metal.

"We've been wanting to open another location for some time, and we felt like the South Bay has been under-served by craft beer," says Kasey Chapman, COO, Coronado Brewing Company. "Bikeway Village offers us a great location, with easy access to the freeway and the rest of the South Bay. The success of our current I.B. location has shown that the demand is there, and we're looking forward to having a larger space for more people to experience the Coronado brand."
Bikeway Village is located at 13th Street, with sweeping views of the estuary, San Diego Bay, downtown, and Coronado Bridge. Decades in the making, the Bikeway Village plan was "strategically designed to accommodate bicyclist, after-surf coffee goers and inspire further outdoor recreation with all the modern comforts." Coronado Brewing is building a full-service restaurant (approx. 7k sq. ft.), 10-barrel brewery, and eventual plans for a distillery. The company will also have ample outdoor space, allowing guests to relax around fire pits while taking in the unobstructed views of downtown, or host private group events.
Coronado expects the project to take 12-18 months to complete, but the company plans on opening a temporary tasting room in time for this summer. "We want people to enjoy the beautiful outdoor space while we work on the interior," says Chapman. "We plan on having a mobile beer trailer with 18-20 taps, food trucks, and plenty of outdoor seating. It's going to be an awesome part of the community and we hope it's a place where people of all ages can come and enjoy great beer in a comfortable setting."
Coronado is enthusiastic about bringing more craft beer to the South Bay, and so is Rex Butler, owner of Bikeway Village. "We are very excited to have Coronado Brewing Company join us at Bikeway Village," says Butler. "Good things come to those who wait, and this building rehabilitation has definitely proven worthy of its extraordinarily long project lifespan. Next up, an interesting and eclectic mix of tenants and cold beer on the terrace."
For more information about the Bikeway Village plans, please visit www.bikewayvillage.com. Stay Coastal. Cheers.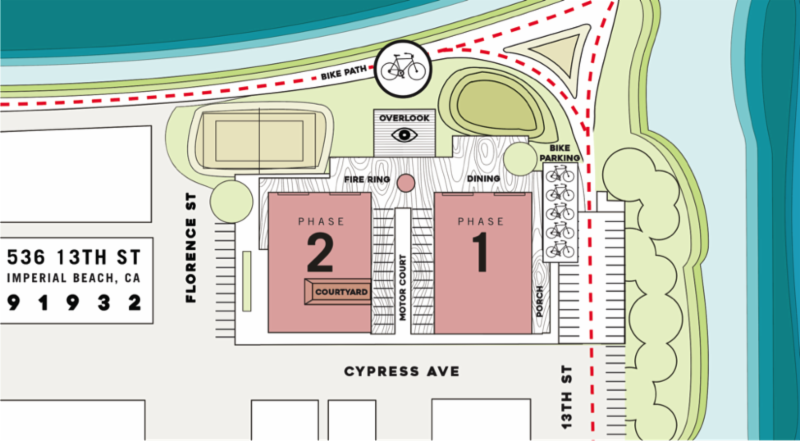 Facts:
Address: 535 Florence Street, Imperial Beach, CA 91932
Sq. Ft: 15,000 sq. ft.
Opening: Summer 2017 (temporary tasting room), Summer 2018 (restaurant & brewery)
Building Architect: http://www.studioearchitects.com/work/bikeway-village-2/
Bikeway Village: www.bikewayvillage.com
About Coronado Brewing Company
In 1996, when craft beer was still a foreign term and San Diego County was home to only a handful of breweries, the Chapman brothers, Ron and Rick, opened a brewpub in their hometown of Coronado. Today Coronado Brewing stays true to its San Diego roots, brewing a diverse portfolio specializing in abundantly hoppy West Coast-style ales, available in 19 US states and 12 countries. In addition to the long-established pub in Coronado, the company operates a tasting room inside its San Diego production facility, and a tasting room and restaurant in Imperial Beach, California. Coronado Brewing Company is the proud recipient of one of the brewing industry's most prestigious awards-World Beer Cup Champion Brewery and Brewmaster for a Mid-Size Brewing Company, 2014.
www.coronadobrewingcompany.com – @CoronadoBrewing – facebook
About Bikeway Village
A property designed to uniquely showcase all that Imperial Beach has to offer. Bikers, surfers, bird watchers, nature lovers, beer connoisseurs rejoice. Every detail has been curated to maximize the experience that is Imperial Beach. Graced with an abundance of wildlife, courtesy of the adjacent San Diego Bay National Wildlife Refuge, a beautiful marine environment, views of the Coronado Bridge and downtown and direct proximity to the twenty-four mile Bayshore Bikeway, embracing the site was the driving factor in designing the exterior environs for this warm shell project. Over eight years since inception a critical element of the building design was to attract attention from both vehicles passing by on nearby Palm Avenue and those cruising along the bike path. A dramatic color scheme, pedestrian-scaled additions and large new opening in the exterior walls that coax daylight deep into the formerly dark warehouses recast the pair of buildings as a destination. Join us to curate a place where Imperial Beach and the surrounding community can come together and indulge in our slice of classic Southern California. From fundraisers to casual family outings we promise to make all feel welcomed.