Cascade The Vine Bottles Go On Sale This THURSDAY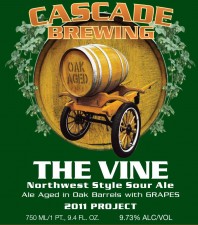 TGIF! Fresh off a very successful release of Blueberry in bottles – don't worry, there is still plenty available – we are now very excited to announce the date for the bottle release of 2011 The Vine.

The release of The Vine in bottles will be Thursday, March 29 at 4:30 PM at the Barrel House. The blenders will be on hand  to answer questions, and we'll also have a vintage vertical on the Blenders Taps and food specials. The Vine is a blend of blond ales that were aged in oak barrels for up to 12 months before aging on fresh pressed grapes for an additional three months. Bottles sell for $17 and are available at the Barrel House, the Raccoon Lodge and online at http://cascadebrewingbarrelhouse.com/info_order%20form.pdf (to states that allow it).