FiftyFifty Brewing Announces 2012 Eclipse 'Futures' Sale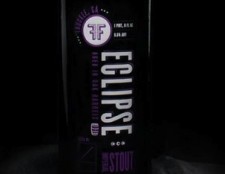 Announcing the limited release of futures for the 2012 Vintage of EclipseTM Barrel-Aged  Imperial Stout. For a limited time only, you can reserve your bottles of 2012 Eclipse for a  discount off the final retail price.
**ORDERS WILL ONLY BE TAKEN VIA OUR WEBSITE**
www.fiftyfiftybrewing.com
A 50% non-refundable deposit is due upon reservation, with the remainder plus sales tax due
at product release. Limited quantities of the following barrel treatments are available:
* Rebel Yell Whiskey ($20/btl, $10 down, limit 6) ➡ Available ONLY via Futures and at the taproom in Truckee
* Elijah Craig 12 year ($20/btl, $10 down, limit 12)
* Evan Williams Single ($20/btl, $10 down, limit 12)
* Rittenhouse Rye ($22/btl, $11 down, limit 12)
* Old Fitzgerald Bourbon ($22/btl, $11 down, limit 12)
* Bernheim Wheat Whiskey ($22/btl, $11 down, limit 6)
** FUTURES GO ON SALE APRIL 16TH, 8:00am PDT**
By purchasing this product, you are acknowledging that you are of 21 years or older. Bottles can only be shipped
within the state of California. Shipping vs pick-up details must be confirmed by November 1, 2012. Any changes
after that date will result in a delay of product delivery. Adult signatures are required for shipments, any re-shipments
will require additional shipping charges. Products being picked up at the brewery must be signed for at the brewery
by an adult, and checked for proper quantities. Bottles are the consumer responsibility once they leave the premises.
Final payments must be received by and product picked up by January 20, 2013. No refunds. Product release will be
in early December 2012. Sales tax and shipping due with final payment. Supplies will run out.
Click here to read the rest of the information from FiftyFifty Brewing.