Brew Masters – Recap and Thoughts on Season 1 Episode 6 – 3 Beers for Batali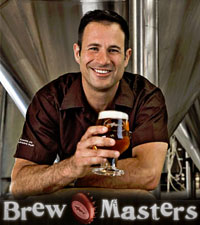 The Full Pint recaps the sixth and final episode  (3 Beers for Batali) of Discovery Channel's the canceled series, Brew Masters, starring Sam Calagione. Read on for a summary and analysis. This episode only aired in Itlay a few weeks back, and my good friend Javier was able to grant me access to this episode. 
Synopsis/Eataly – In this episode of Brewmasters, the focus is on the creation of Eataly, the restaurant/brew pub venture between Dogfish Head, Television Chef Mario Batali and  Joe Bastanich.  After Sam sees he gets a small corner of brew space of the roof top brewpub, he, Mario and Joe start planning out 3 flagship beers to serve. Typically, a small Italian bistro would focus on food and wine pairings, right off the bat, you see the two chef's are eager to make Eataly famous for breaking boundaries by pairing with craft beer.
As the title of the show would suggest, Sam is tasked with creating 3 beers for Batali. On paper, he has an English Mild with Chestnuts, A Pale Ale with Thyme and a Wheat Ale with Peppercorns.  In Brewmasters fashion, they completely romanticized  the creative session by having a concept tasting to plan out the wheat ale on the roof top of their New York City restaurant.
In another segment, Sam heads to Italy to collaborate on the Pale Ale with Tyme. The show goes a little long on the thyme picking, and he finally starts working with Baladin and Bierra Del Borgo to collaborate this brew. The Italian brewers seemed genuinely happy, and their love of the food/beer/wine culture really shined on the camera.
The third beer (Mild With Chestnuts) was piloted by their new brewer from Rome, Brooks, with the help of Brian. The show really drove home the point that this was a very small brew system compared to what Dogfish is typically used to.  I thought Brian was being more low-key than in previous episodes, and as soon as that thought left my mind, here he was rocking a tuxedo t-shirt.
Expansion Footage
A good portion of the show was dedicated to the 4 million dollar capital expansion project that involved importing 8 new bright beer tanks (tanks for holding finished beer to be filled in bottle) from Germany.  What seemed like the size of a 8 story building, Dogfish had to demolish parts of their existing brewhouse to make way for these gigantic new tanks.  The coolest part was when Sam and Floris got to climb inside the tank to inspect it before implementation.  It was apparent Sam wasn't up on tank engineering flaws, but he was very excited to be in that vessel.
The Vibe, Additional Thoughts and Questions
It's sad we won't see this show again, it really hit its stride mid-way through its short season.  On this particular episode, it seemed that it was more on the technical side, focusing on the actual brewing process and brewing equipment. I enjoyed the romanticized eye candy of Sam's travels just a little bit more than the nuts and bolts of brewing, but for a show that SHOULD have aired on Discovery, it seemed like a perfect balance for science nuts, brewers and traveling buffs.  If the time and money were to be right, I'd love for Dogfish to cut out the middle man and make this a webshow. I know that the production values of the Discovery show would make this cost prohibitive, but there are many aspects of the show that can still be captured on the cheap. If the rumors are true about Discovery being strong armed by Anheuiser Busch/InBev to pull the series, Fuck you to Discovery and InBev.
Parting Questions
From a brewers perspective, wouldn't it be easier to brew on a small system? The show inferred that's not the case.
Do you want to see Brewmasters back on TV or in Webisode format?
What's your favorite beer featured on the entire series?