Lagunitas Shares 2012 Seasonal Release Schedule Including Brown Shugga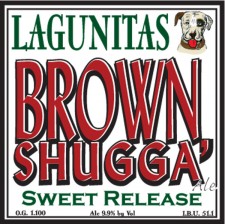 2012 SEASONAL RELEASES
Our line of robust seasonal beers is designed to provide variety to the seasoned and the jaded micro-brew aficionados.  They all fit the season.  They are all large beers.  They have all seen the elephant. Click here for the release schedule poster. Cheers!
12-OUNCE SEASONAL 6-PACKS
UPC (7)23830-00014
Late January
Lagunitas Imperial Red Ale
It's back!  Big on the Spicy, Skunky Hops, Bigger on the Rich, Red Malt.  A Dank and Roasty Treat, The Recipe is a Variation of Our Very First Beer From Back in '93 – "Lagunitas Red". ABV: 7.8%
April
Undercover Investigation Shut-Down Ale
Our Oxymoronic "Imperial Mild" – Rich and Smooth with a defined hop snap.  A redux to remember the '05 St. Paddy's Day Massacre.  Defiant as to the style… We can say for sure it is unforgiven and unrepetent.  ABV 9.7%
July
Little Sumpin' Wild
The big sister of the Little Sumpin' Sumpin' Ale… Lots of wheat for a curious malt complexity & fermented with our Belgian yeast strain leaving it huge in flavor and satisfaction.  ABV 8.7%
October
Brown Shugga'
We all missed our favorite seasonal last year but we promised to bring it back in a big way!  The rich, roasty and mysteriously drinkable ale might best be described as… Irresponsible.  It leaves a lot of stories in it's wake.  ABV 9.9%
22-OZ SEASONAL BOMBERS
UPC (7)23830-00003
February
Wilco Tango Foxtrot
This beer was supposed to follow up the 2009 Correction Ale with the name '2010 Recovery Ale' but it doesn't look like we'll be there anytime soon.  Makes you wonder…WTF?
May
Lucky 13
We all loved the new look on our favorite gal.  A twist on our Lucky 13 recipe – BIG on the Amarillo hops but lightened up on the malt side… She turned into a mondo blonde for Summer.  ABV 8.3%
August
???
This one will surprise everyone – Maybe we'll bring back an old favorite from the seasonal stable or we may go ahead and make something brand spankin' new – More to follow –
November
Cappuccino Stout
Big, dark and scary imperial-esque stout brewed with plenty of dark malts and roast barley and loads of Sebastopol's Hardcore Coffee for deep roasty flavors and that extra krunk.  ABV 9.2%
Each seasonal is available on draught for a brief time during their bottle run… ask about the current release.