Christmas 2011 Craft Beer Roundup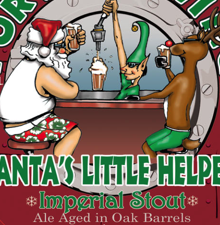 It's getting closer to Christmas, and many of our craft brewing friends have a warm messages, deals, and adjusted hours to share. Ho ho ho bitches!
Big Boss Brewing – Happy holidays everyone! We wish you a great 2012 and look forward to seeing you at one of our beer centric events in the great state of North Carolina beer. Here are our hours for the rest of the year: 12/22 3pm -2am, 12/23 2pm -2am 12/24 1pm-5pm Closed on Sundays just like Chik-Fil-A + normal hours the following week including New Years Eve.
Blue and Gray Brewing –  The brewpub will be open Christmas Eve with a traditional "Seven Fishes" seafood feast. Email Lori for details or reservations.  The Brewpub will close for the season after the New Year's Eve Beer Dinner, reopening Valentine's Day.  The brewery retail store will remain open for regularly scheduled retail.
Brewsters Brewing Company – Merry Christmas to everyone. We are open till 4 pm Christmas eve, closed Christmas Day and open regular hours Boxing day for the start of the World Junior Hockey Championships. Go Canada Go!!!!!!
CraftBeer.com would like to wish you a happy holiday season filled with family, friends, and of course, good craft beer.
Epic Brewing –  Holiday Hours Christmas Eve: 10am–7pm, Christmas Day: Closed, New Year's Eve: 10am–11pm, New Year's Day: Closed
Fat Heads Brewery and Saloon – FYI: Fat Head's Brewery & Saloon Holiday Hours: Christmas Eve: Kitchen open until 5pm, bar open until 6pm. Christmas Day: CLOSED Monday December 26th, open at 11am for regular hours. Cheers!
Flying Fish Brewery – NO TOURS DECEMBER 24 & 31 We're taking a break to enjoy the holidays. See you on January 7.
Full Sail Brewing –  Our Tasting Room and Pub will be closing early (4PM) on Christmas Eve and we'll be closed on Christmas Day. We will have regular hours on New Year's Eve and New Year's Day. Warmest holiday wishes to you and yours. Cheers – The Full Sail Crew
Grand Teton Brewing –  Cheers to all of our local non-profit organizations and the many individual volunteers who work hard to enrich the culture, community, and environment of Teton Valley. Grand Teton Brewing Company would like to thank them for making Teton Valley a wonderful place to live, work, and play. During this holiday season, our hope is that 2012 will be a year of peace, hope and prosperity.
Hangar 24 – Hangar 24's tasting room will be open on Christmas Eve from 9am – 5pm and closed Christmas Day. Cheers to a fantastic holiday to you and yours from all of us here at Hangar 24 Craft Brewery.
Jackie O's Pub and Brewery – Jackie O's hours this weekend:  Saturday, Dec. 24 – Open 9am-3pm (Jana's breakfast) Sunday, Dec. 25 – Bar open 8pm-2am (kitchen closed)
Jolly Pumpkin Cafe and Brewery – f you need someplace to escape the holiday madness- we're here for you! We'll be open Christmas Eve day from 10 am-5 pm. Brunch and Lunch all day.
Ladyface Alehouse –  Christmas Eve: The Lunch menu will be served until 6PM and, even though it's a Saturday, the Happy Hour Menu will also be available from 3-6 PM. We'll be closing our doors early with no regular dinner service. Get your last minute gifts and growlers. Stock up because we'll be closed on Christmas Day.
Milstream Brewing – Happy Holidays From All Of Us At Millstream Brewery! We hope you have a very Merry & Blessed Christmas and a Happy New Year! We will be closed Christmas Eve and Christmas Day so our employees can celebrate with their families.
Ninkasi – Reminder, the Ninkasi Tasting Room elves will be filling your pint glass and last minute gifting needs until Dec 24 at 6pm (open from noon daily). We will be closed Dec 25th and Jan 1st. Please enjoy the season responsibly and have a Happy New Year!
Saint Arnold –  We hope everybody has a great holiday season.  Remember to recycle your six pack carriers with us.  We will be holding tours at the regular times during the holidays with no cancellations (since Christmas conveniently falls on Sunday this year!).
Smuttynose – We will be closed for our Saturday tour this week so our staff can spend time with their families. We hope you get to do the same.
Six Rivers Brewing – We will be open Saturday, Christmas Eve at 10am for all the NFL action, breakfast and bottomless mimosa's!
Tallgrass Brewing – The Velvet Rooster wishes you Happy Holidays..CLICK HERE
Telegraph Brewing – Well, this week we're closed on Christmas Eve, but we'll have normal tasting room hours on Thursday (4 to 6 pm) and Friday (4 to 8 pm). And then we'll be open normal hours for all of the New Year's weekend: Thursday 4 to 6 pm, Friday 4 to 8 pm, New Year's Eve 2 to 6 pm.  Remember though, if you need a keg for your New Year's Eve celebration, please reserve one early! We'll have plenty of bottles and growlers too. Hope everyone is having a wonderful and safe holiday season. Cheers!
Tri City Brewing – Special Holiday Public Hours Friday, December 23, 10:00 am to 4:00 pm Saturday, December 24, 10:00 am to 4:00 pm
Twin Lakes Brewery – We will be open Saturday, December 24 and Saturday, December 31 for growler fills and Christmas gift sale sonly.
Tyranena Brewing – Being that Saturday is Christmas Eve (and that no one really wanted to work, let alone very late) the Tasting Room will be open from Noon to 4 pm for last minute growler fills, beer-to-go, gift purchases and general frivolity. However, there will be NO brewery tour or live music. Shelly will be on hand to help orchestrate as much holiday cheer as possible! The Tasting Room will be closed completely on Christmas Day (Sunday).
Victory Brewing – We would like to wish a safe and happy holiday to all of you. It's people like you who are passionate about fresh, quality beer that keep us in business. At a time of year for giving thanks, we want you to know that we are thankful for all of our fans. So this holiday season we will raise a glass to you. Cheers!
Willimantic Brewing – We will be open till 11:00pm on Christmas eve if you have any last minute shopping to do. Growlers will be available till 9pm. Merry Christmas and Happy Chanuka to our friends and families.