Breakside Brewery Salted Caramel Stout Release Details
Portland and Milwaukie, Oregon's Breakside Brewery fresh off celebrating 100 beers in 2013 is excited to announce just the 2nd release in their new seasonal bottle releases with the uber popular Salted Caramel Stout.
Salted Caramel Stout Bottle Release Party
Thursday January 30th 5-8pm
4500 SE Stark
Portland, OR
Join the Breakside Brewery team to celebrate it's release on Thursday June 30th at Belmont Station in Portland, OR. Wanderlust IPA and Oude Noir will join Salted Caramel Stout on tap for the event and brewers will be pouring free samples from all of Breakside's current bottled beers.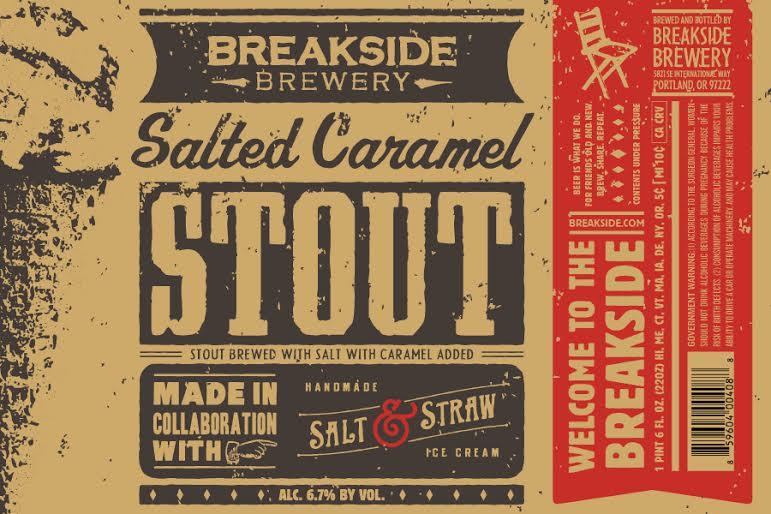 About Salted Caramel Stout:
A collaboration with Salt & Straw Ice Cream, Salted Caramel Stout has been one of our most popular draft seasonal brews now for the first time available in bottles. A rich stout base mixes with sea salt and specially­ made salted. this beer is rich and balanced with a luscious caramel flavor in the mid palate, a hint of salt in the finish, and a smooth roastiness.
Beer Specs:
6.7% ABV  28 IBU
malts: Two Row, Chocolate, Roasted Barley, CaraMunich, Flaked Barley
hops: Newport
special ingredients: salted caramel; sea salt
available 2/1/2014­4/1/2014 on draft and in 22 oz bottles in Oregon, Washington, Idaho, British Columbia and Japan
Other Breakside Events:
Breakside IPA Tap Takeover @ N.W.I.P.A.
Thursday June 23rd 6-9pm
6350 SE Foster Road
Portland, Oregon 97206
Breakside takes over the taps with eight different IPA's from regular releases like their flagship IPA to the new fan favorite Wanderlust IPA and the much hyped Safe Word Triple IPA. Joining those on tap are new experimental IPA's using a hop bursting technique, with the world's hottest chili peppers and more. N.W.I.P.A. will offer two different flights encompassing all of the eight IPA's.