Beer Defeats Wine in an Epic Three Year Pairing Competition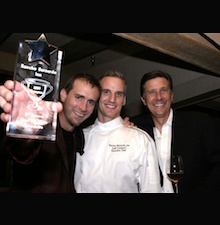 "The premise of the dinner–the motivation for me to do it–was to prove a point. I intentionally picked a wine-centric, fine dining, chef-driven restaurant for the Beer vs. Wine Dinner. I wanted to show that even in this 'hostile territory' the ability of great craft beer to pair amazingly with great food was equal, or better, to that of fine wine." – Greg Koch, CEO & Co-Founder, Stone Brewing Co.
"Beer vs. Wine" was a three-part challenge pitting Wine against Beer in a food-pairing showdown. The multi-course fine-dining dinners were held over three consecutive years (2007-2009) at the Rancho Bernardo Inn's critically acclaimed El Bizcocho restaurant. Each course was paired with a specially selected wine and a specially selected beer, and guests voted on their preference.
The Wine pairings were hand selected each year by Barry Wiss of Napa's Trinchero Family Estates, and the Beer pairings were determined by Greg Koch, CEO & Co-Founder of Stone Brewing Co. Neither Barry nor Greg had any say in the creation of the food menu.
In October 2007, "Beer" won. However, it was very close. Beer took three of the courses and wine won three, yet Beer edged out Wine with more total votes during the evening. In October 2008, "Wine" won. Again, it was very close with three courses to three courses, with Wine winning more total votes in the evening. Friday, October 16th, 2009's dinner was the tie-breaker to determine the "best two out of three" winner.
Beer emerged victorious in the October 16, 2009 Beer vs. Wine Dinner. The competition was so fierce that the ballots had to be recounted twice, but it was eventually determined that Beer won by one single vote.
Follow this link for Greg's Blog Post, which has some great videos to watch as well.