Beavertown / Garage Project / Stone Fruitalica Release Details
(ESCONDIDO, CA) – Call up your mosh mates and crank up the noise, three international breweries are releasing a tropical double IPA that makes even kiwi fruit sound righteously heavy. Beavertown / Garage Project / Stone Fruitallica will release to the public this week.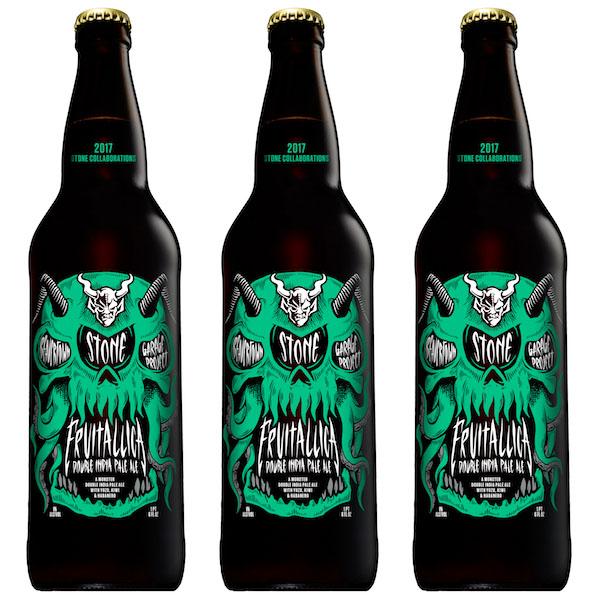 Like a legendary band on a world tour, Stone's brewers traveled the globe to put together a team capable of collaborating on such an immensely delicious beer. London's Beavertown and New Zealand's Garage Project fit the bill with a collective resistance to complacency and thirst for edgy, big flavor (or flavour, if you will).

"This beer was an amazing journey," said Jeremy Moynier, Senior Innovation Brewing Manager. "With fruit from New Zealand, hops from New Zealand and America plus English yeast, it truly represents all of our backgrounds. And more literally, the team put on some miles to bring this beer to life. We brewed in the past with the Garage Project team in Japan as well as at our small brewery in Liberty Station. We have been to Beavertown in London and were looking for an excuse to brew with them. Hosting everyone at Stone Brewing in Escondido was an honor to say the least."
It's a melee of ingredients that make for an immensely juicy beer. Kiwi and yuzu fruit alongside American and New Zealand hops plus London Ale Yeast, rounded out with a dash of Habanero give this beer a subtle, lingering heat. It pours golden and hazy, smells of freshly-squeezed grapefruit juice and tastes like a glorious, crank-it-to-'11' cacophony. There is a slight tartness from the Kiwi with flavors of peach, lime, citrus, and tropical fruit from the hops. All this is complemented by hints of wheat in the background and a surprisingly pleasant pepper on the finish. It's [hop] head-banging worthy, it's electrifyingly amped…this beer is molten-metal!
With 80 IBUs generating some massive hop flavor, Beavertown / Garage Project / Stone Fruitallica is brewed to be enjoyed fresh. Fans will find this beer, the third riff of Stone's ongoing 2017 heavy metal collaboration series, in 22-ounce bottles and draft nationwide.
QUICK FACTS
Name: Beavertown / Garage Project / Stone Fruitallica
Web: stonebrewing.com/fruitallica
Stats: 8% ABV, 80 IBUs
Availability: National, limited release in 22-ounce bottles and draft
Featured Hops: Wai-iti, Riwaka, Centennial
National Distribution: AK, AL, AR, AZ, CA, CO, CT, DC, DE, FL, GA, HI, IA, ID, IL, IN, KS, KY, LA, MA, MD, ME, MI, MN, MO, MT, MS, NC, ND, NE, NH, NJ, NM, NV, NY, OH, OK, OR, PA, RI, SC, SD, TN, TX, UT, VA, VT, WA, WI, WY and Puerto Rico
International Distribution: Australia, Germany, Hong Kong, Japan, Korea, Singapore, Taiwan, Thailand
Find Beer: Find.stonebrewing.com
About Stone Brewing
Founded by Greg Koch and Steve Wagner in 1996, the groundbreaking San Diego-based Stone Brewing is the 9th largest craft brewer in the United States. Recognized as an award-winning, industry leader, Stone has been listed on the Inc. 500 | 5000 Fastest Growing Private Companies list 12 times, has been called the "All-time Top Brewery on Planet Earth" by BeerAdvocate magazine twice. The multifaceted company is the first American craft brewer to independently build, own and operate their own brewery in Europe (Berlin, Germany), and also opened a production brewery in Richmond, Virginia in 2016. Known for its bold, flavorful and largely hop-centric beers, Stone has earned a reputation for brewing outstanding, unique beers while maintaining an unwavering commitment to sustainability, business ethics, philanthropy and the art of brewing…and pledging to never, ever, sell out to the man.  For more information on Stone Brewing,  please visit stonebrewing.com or the company's social media sites: Facebook, Instagram, Pinterest and Twitter.