Alesmith Brewing Hammerhead Speedway Stout & Port Barrel-Aged Wee Heavy
San Diego, CA – A large increase in capacity following expansion into a much larger brewing facility is allowing award-winning AleSmith Brewing Company (which was just named California's best brewery and second-best brewery in the world by RateBeer.com users) to roll out more specialty beers in 2016 than during any year prior. The first two, AleSmith Hammerhead Speedway Stout and Port Barrel-Aged Wee Heavy—will go on sale at 11 a.m. PST on Monday, February 29, via online platform, Eventbrite. Though the number of releases will increase in 2016, each specialty release remains small-batch in nature, making these beers extremely limited-edition in nature.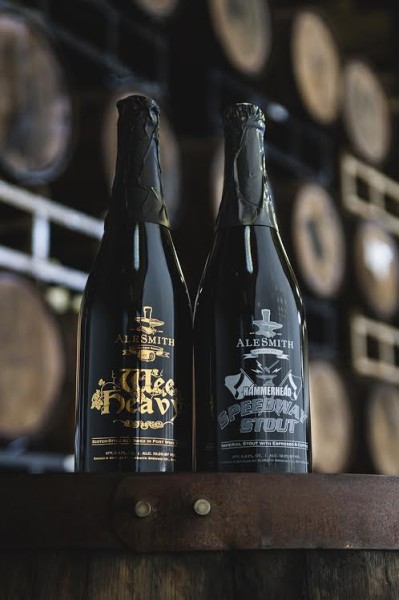 Mirroring the coffee-house espresso-drink of the same name, Hammerhead Speedway Stout is a version of AleSmith's world-renowned coffee imperial stout dosed with even more select java plus a heaping helping of espresso. This highly caffeinated one-off was first brewed on an experimental basis as part of AleSmith's popular Speedway Grand Prix event during the 2013 edition of San Diego Beer Week. Introduced along with 11 other special versions of Speedway Stout, it was an instant classic and the all-around favorite of AleSmith fans. As such, we are immensely proud to bottle it for the very first time as the first in a family of future releases that will eventually tackle the beer's much beloved offspring, Double Hammerhead Speedway Stout and, for the most insatiable Joe enthusiasts, Triple Hammerhead Speedway Stout.
On the oak-aged side of our first 2016 release duo is Port Barrel-Aged Wee Heavy. We started with our archetypal Scotch-style ale, siphoning it into second-use Port wine barrels, where it sat for a prolonged period of time, picking up some of the dried fruit, grape must, vanilla and tannins imparted in those oak vessels during their winery tenure. The result is a rich, multi-layered beer unlike any other that will be available in extremely limited quantities. It is so rare that, other than bottles, the only place to sample it will be AleSmith's tasting room (9990 AleSmith Court—formerly Empire Street) in San Diego's Miramar community, beginning with an official release event for Port Barrel-Aged Wee Heavy and Hammerhead Speedway Stout on Saturday, March 5, from 11 a.m. to 10 p.m. PST.
QUICK BEER FACTS
AleSmith Hammerhead Speedway Stout
Style: Coffee Imperial Stout with Espresso
Alcohol-by-Volume: 12%
Packaging: Draft & 750-milliliter bottles
Distribution: AZ, CA, CO, CT, IL, MA, ME, MN, NC, NY, OH, OR, PA, RI, TX, VA, VT, WA & WI
AleSmith Port Barrel-Aged Wee Heavy
Style: Port Wine Barrel-Aged Scotch-Style Ale
Alcohol-by-Volume: 10%
Packaging: Draft & 750-milliliter bottles
Distribution: Online Bottle Sales via Eventbrite and AleSmith Tasting Room ONLY
Both beers will be available at the following URL beginning 11 a.m. PST, Monday, February 29: http://hammerheadport.eventbrite.com
ABOUT ALESMITH BREWING COMPANY: Forged in 1995, AleSmith has been recognized by consumers and critics alike as one of the world's foremost craft brewing companies behind accolades that include medals won at prestigious national and international beer competitions as well as being named Small Brewing Company of the Year at the Great American Beer Festival. AleSmith is on the verge of celebrating its 21st year in business and recently expanded, moving into a 105,500-square-foot, state-of-the-art brewery featuring a new 80-barrel brewing system that will allow the company to increase its production ten-fold. The expansion also included construction of the largest brewery tasting room on the West Coast (25,000 square feet) with an outdoor beer garden that will soon be joined by a second-story indoor-outdoor mezzanine, private rooms and a museum dedicated to San Diego Padres legend Tony Gwynn. AleSmith's line of acclaimed beers, which includes Speedway Stout, IPA, San Diego Pale Ale .394, Nut Brown and Old Numbskull Barleywine, is distributed in 20 U.S. states and five countries.
www.alesmith.com – @AleSmithBrewing – Facebook