New Brew Thursday : The Tide And Its Takers : Anchorage Brewing Company
This week we enjoy a bit of the untamed north, with Anchorage Brewing's The Tide and its Taker, a delicious Belgian Style Triple, spiked with Brettanomyces & aged in Chardonnay barrels.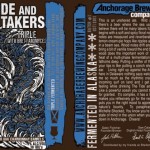 On Master Pairings with Dr. Bill, Stephen joins Bill in the kitchen for a delicious pairing of Corn on on the Cob, with a German Helles from Allgauer Brauhaus.
If you're in Santa Rosa tomorrow (Feb 3) come over to Russian River Brewing Company and have some Pliny the Younger with Stephen from NBT. Or in March .. come up to Seattle with Stephen & John and enjoy some Hard Liver Barleywine fun.
Also, stop over to newbrewthursday.com on February 20th, to watch the Beachwood BBQ raffle drawing live on Ustream!