New Brew Thursday : Abrasive Ale + HopSlam : Surly Brewing + Bell's Brewery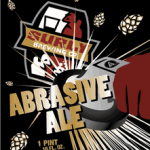 This week we do two very amazing very hoppy brews from the midwest. First we go to Surly Brewing company and drink Abrasive Ale, and then we skip over to Michigan for a widely sought after seasonal release from Bell's Brewery, HopSlam.
On Master Pairings with Dr Bill, John joins Bill in the kitchen for a delicious pairing, also from Bell's Brewery, Expedition Stout with lemon pie.
Stephen & Matt do math, we declare the proper freshness for big IPAs, Stephen creates his own hopping terminology for brewing, John just wants the beer to do its thing in his mouth.
Finally, Stephen wins the bet. That will make sense after you watch the show.
__
Follow NBT online
New Brew Thursday – Twitter – twitter.com/newbrewthursday
New Brew Thursday – Facebook – facebook.com/newbrewthursday
Subscribe via iTunes – iTunes Link