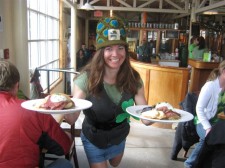 Stout?…check.  Corned Beef & Cabbage?…check.  Bagpipers?…check.  Liter Steins?…check.  Fun For You And Your Friends?…CHECK!!  TFP Edit – We took this straight from Snake River's Email Briefing, and we took the picture. I'd say the lady in the picture is a Wyoming 8!!)

Join us at Snake River Brewing for Saint Patrick's Day and Saint Patrick's NIGHT!!
Festivities start at 11:30 am with Executive Chef, Ryan Brogan featuring an assortment of authentic Irish menu items along with this years release of Fitzgerald's Irish Stout.
Here is the scoop for St. Patrick's Day at Snake River Brewing! (265 S. Millward Jackson, Wyoming 83001)
*  NO Cover
*  Irish Cuisine
–  Corned Beef & Cabbage
–  "Bier Rocks"
–  Donaldson's Irish Stew
–  Fitzy's Braised Lamb Shank
*  Liter Steins (Supplies Limited)
*  Jameson's and Car Bombs
*  Real Live Bagpipers!
*  Fitzgerald's Irish Stout
*  Bar Open until 1:30 am.
We look forward to seeing you at The Pub, raising a pint to ol' Saint Patrick.
For more information on Snake River Brewing's St. Patty's Day event, give us a call at (307) 739-BEER (2337)