Listen to Sam Calagione On The Brewing Network Tonight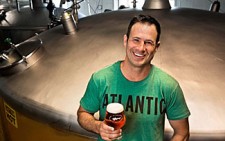 Dogfish Head's Sam Calagione will be a guest tonight (12/5/3020) on The Sunday Session, brought to you by The Brewing Network. Here is the preview below as well as info on how to tune in.
Fresh off the Thanksgiving break, The Session is back to start a new series on ingredients – this week we will cover everything you need to know about base malt, from basic American two-row, to Marris Otter, Pilsner, and Munich. In addition, Pintley.com's Tim Noetzel and Dogfish Head's Sam Calagione will join us to discuss their latest ventures, and we will conduct the much anticipated sit-up contest between Justin and Beevo. Be sure to check out the studio cam at justin.tv/brewingnetwork, as antics are sure to ensue.
Click here to go to http://thebrewingnetwork.com at 5PM for the live show.
Click here to see if the show is available by iTunes.