Interview with Paul Segura of Karl Strauss Brewing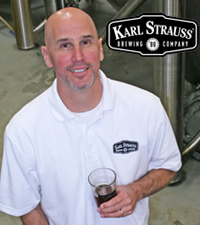 We are proud to bring you another interview for our Brewmaster Spotlight. We got to sit down and talk with Paul Segura, Brewmaster of Karl Strauss Brewing in San Diego. Karl Strauss is on their 21st birthday, and Paul has been brewing for them since 2000.
Read on for Paul's thoughts on the new beers they have been making, the reintroduction of the brand, and what it's like being part of the San Diego brewing scene.
The Full Pint: What is the background story on you coming into the fold with Karl Strauss?
Paul Segura: I joined the Karl Strauss team about ten years ago, while the company had already been around ten years at that point. I joined the team because I am from San Diego and didn't want to leave San Diego, I had already been brewing for about 10 years, 5 of which where for other commercial breweries. The reason I wanted to join Karl Strauss particularly is because back when they opened in '89, I thought their beer was incredible and fresh. And then there was another brewer I had gone to school in Davis, named Eric Jensen. With him and I on the same team, we could really kick some butt and make some great beer. The last ten years has been a pretty cool ride.
TFP: What are your feelings on your core beers, the Amber, Endless Summer, Red Trolley, etc?
Paul: A lot of those beers have been around since the start. Amber Lager was one of the first beers brewed, Red Trolley started out as our first Christmas beer, they are all year round now, and they are good beers for what they are. The Windandsea Wheat Hefeweizen isn't as old as those beers, and it keeps picking up momentum each year. Now we have Tower 10 IPA, which is 60 IBUS at 16 Plato. It's starting to take off and we are really excited about it. We are giving the people of San Diego what they want, and sales are reflecting it.
TFP: In regards to Tower 10 IPA, we have noticed you have started to brew bigger, more flavorful brews in the last year.
Paul: One of the cool things, last year we brought our bottling to San Diego, one of the cool things is that some of the cool beers that were only offered in our restaurants such as Big Barrel Double IPA and our Anniversary beers are now offered in the 22 oz bombers, have been received very well. We will continue on with that. We have a few in the pipeline, Whistler Imperial Pilsner, and of course our 21st Anniversary.
TFP: Will you be scaling back on some of the core beers to focus more on these bigger beers?
Paul: We'll let the market determine that. Right now there is no plan to scale back our flagship beers, but in addition to our big bombers, we have started a seasonal program which consists of Pintale Pale Ale for Summer, Oktoberfest for Autumn, and Full Suit Belgian Brown in the Winter. We are already getting complaints for taking Full Suit off, but they can wait until November, and it will be back. I've always anticipated seasonals from other breweries, and beers like Sierra Nevada Bigfoot Barleywine. People look forward to them, I know I do.
We are pumped about all of this. Whistler Imperial Pilsner will be exciting. We got thousands of pounds of Moravian Barley and a lot of Tettnang hops for this beer,a nd it's just really exciting.
TFP: Explain to us the process behind Karl Strauss 21st Anniversary Ale?
Paul: I've always wanted to play around with a hybrid of beer and wine. I don't know, maybe it's my French background. I was thinking, wine juice is very fermentable, what if we just added the two (beer) together. We got two drums of Old Vine Zinfandel juice from Lodi, CA and we made a strong wort 20 plato and added the juice prior to knockout. We started out with a blend of Chico and Belgian yeast. The gravity didn't get low enough, so we added Champagne yeast, until it got the right dryness and sweetness. Then we put in on oak! And here we have a beer/wine hybrid! It might remind you of an Old Ale at first, then take a turn to a big oaky zinfandel. The beer weighs in at 10.2% abv. You could even lay this one down.
TFP: How do you jive with the other brewers in SD.
Paul: I jive very well. I've worked with at least half of them. A lot of them are ex-Strauss employees, and some are just some cool guys like Sean at Coronado or Marty at Rock Bottom La Jolla. It's a pretty tight knit group of guys. We all make good beer, and we view each others places as another great place to drink beer. We used San Diego Beer Week to spread the word. We lend ingredients and parts with each other. Its a very good scene to be a a part of. We bring the best out in each other. We all love good beer.
TFP: Anything in the pipeline not mentioned that you can tell us about?
Paul: We have a Belgian Golden IPA-Style We have some unique . This year instead of a wheat wine, we might make a strong Braggot. We are kicking around doing a beer like 21st anniversary, but with white grapes. We haven't decided on our holiday beer yet. We wanted to do a coffee beer, but we want to see what happens with the proposed legislation on that. We know that we are pushing the envelope on what is considered beer, and we are a microbrewery and that people drink it for what it is, and have fun with it.
TFP: Where do you want to go from here?
Paul: I'd like to see us expand to other parts of California, Arizona. We expand slowly and thoughtfully. We've tried to make sure the beer is put in front of people in a very good condition, so that they can enjoy it. We won't let our beer suffer. We will keep reintroducing ourselves to those who have only tried our core beers, which have been considered safe and drinkable. We have a talented brewing team, we can now show some of the beers we've made for a smaller audience now in packaging.
TFP: What is your favorite non- Karl Strauss Beer? Your go to beer?
Paul: Depends what mood I'm in? I have to go with what is available in most places I go with my family; Sierra Nevada Pale Ale. It's good, it's not too strong. I like Liberty Ale from Anchor, Fat Tire, some of the Stone Beers, Green Flash Beers, some of Tomme Arthur's beers. I don't go to a place looking for a particular beer, I show up and see what I am in the mood for. On St. Patty's Day I drink Guinness.