West Coast Brewfest 2009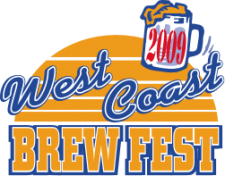 West Coast Brewfest 2009 Saturday, May 16, 2009, 1PM – 5PM, Miller Park, Sacramento

Yes, beer fans, it has been 10 years since we started the West Coast Brew Fest creating one of the best brewer's festivals in the region!
And what better way to celebrate American Craft Beer Week, then being at the home of unlimited craft beer tasting?

To celebrate we are going bigger and better than ever, with great live music, over 60 breweries, and even special VIP tickets.
So, get your tickets today and be a part of our incredible 10th Annual Alebration!(Click here for Tickets and Ticket Info)
Here are just some of the brewers on the lineup, more will be announced.
✤Alaskan Brewing Co., Juneau, AK

✤Allagash Brewing Co., Portland, ME

✤Anderson Valley Brewing Co., Booneville, CA

✤Bear Republic Brewing Co., Healdsburg, CA

✤Belhaven Brewery, Scotland, UK

✤Black Diamond Brewing Co., Concord, CA

✤Blue Frog Grog and Grill, Fairfield, CA

✤Brasserie Lefebvre, Quenast, Belgium

✤Brew It Up!, Sacramento, CA

✤Brouwerij de Landtsheer, Buggenhout, Belgium

✤Buckbean Brewing Co., Reno, NV

✤Chau Tien USA/Beer Guy of America, Fairfield, CA

✤Clausthaler, Clausthal-Zellerfeld, Germany

✤Brouwerij De Koninck, Antwerpen, Belgium

✤Deschutes Brewing Co., Bend, OR

✤Eel River Brewing Co., Fortuna, CA

✤Fireman's Brew, Woodland Hills, CA

✤Firestone Walker Brewing Co., Paso Robles, CA

✤Fox Barrel Cider, Colfax, CA

✤Full Sail Brewing Co., Hood River, OR

✤Gordon Biersch Brewing Co., San Jose, CA

✤Grand Teton Brewing Co., Victor, ID

✤Great Basin Brewing Co., Sparks, NV

✤Hoppy Brewing Co., Sacramento, CA

✤Jever Pilsner, Jever, Germany

✤Kona Brewing Co., Kona, HI

✤König Brauerei, Duisburg, Germany

✤Královský Pivovar Krušovice, Krusovice, Czech Rep

✤Lockdown Brewing Co., Folsom, CA

✤Lost Coast Brewing Co., Eureka, CA

✤Mendocino Brewing Co., Ukiah, CA

✤New Belguim Brewing Co., Fort Collins, CO

✤North Coast Brewing Co., Fort Bragg, CA

✤Oskar Blues Grill & Brew, Lyons, CO

✤Pete's Restaurant & Brewhouse, Sacramento, CA

✤Placerville Brewing Co., Placerville, CA

✤Pyramid Brewing Co., Berkeley, CA

✤Radeberger Brewery, Radeberg, Germany

✤Redhook Brewing Co., Seattle, WA

✤River City Brewing Co., Sacramento, CA

✤Sacramento Brewing Co., Sacramento, CA

✤Boston Beer Co., Boston, MA

✤Santa Cruz Mountain Brewing, Santa Cruz, CA

✤Sequoia Brewing Co., Fresno, CA

✤Shipyard Brewing Co., Portland, ME

✤Sierra Nevada Brewing Co., Chico, CA

✤Shmaltz Brewing Company, New York, NY

✤Speakeasy Ales & Lagers, San Francisco, CA

✤Sudwerk Brauerei, Davis, CA

✤Stone Brewing Co., San Diego, CA

✤Trumer Brauerei, Berkeley, CA

✤Uncommon Brewers, Santa Cruz, CA

✤Wells, Bedford, UK

✤Widmer Brothers Brewing Co., Portland, OR

✤Young's, Bedford, UK