O'Briens Pub – Big Hops, Casks and More!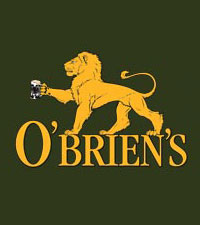 From Tom Nickel, O'Briens Pub in San Diego, CA. – Big Hops, Casks and More!
Hello Great Beer Fans!
We have some great new beers on tap at the pub right now including two new double IPAs – Port Brewing's 3rd Anniversary and Karl Strauss double IPA.
Also new on tap is Full Sail IPA, Avery and Russian River Collaboration not Litigation – both breweries make a beer named Salvation, one of which is a Belgian-style Dark Strong and the other a Belgian-style Golden Strong, and this a combination of the two recipes.
We also have the Boon Oude Lambic, which is a three year old, unblended lambic served nearly still. It has a very pleasant earthy sourness that is not overpowering. And we are starting to tap the last of our Italian craft beers. Right now we have Birrificio di Como Malthus Birolla, which is a chestnut ale. Coming soon you can look for Firestone Lil Opal Wit, Avery Maharaja and Stone Ruination IPA.
We also have a number of great new bottles. We just got in some bottles from Cascade Brewing in Portland, Oregon. We had a few bottles of their great fruit beers at the Belgian Beer Party and this is the first time we have had them sale at the pub. We have three different bottles – Blackberry Ale, Kriek and Cuvee de Jungleur which is a blend of three different barrel aged Belgian-style beers with wild yeast. All of them will be on the bottle list as of tonight. There are also several new Fantome bottles – Chocolat, Black Ghost (black saison) and Printemps. Cantillon Vigneronne is back in stock as well – it is the sour geuze blended with Italian Muscat wine grapes. Dogfish Head Apri-Hop, an IPA made with apricots is now available in 12 oz bottles, too.
This Week
Tonight, Wednesday the 13th we have a cask of Ballast Point Sculpin IPA at 6 pm. I am sure it is going to go fast, so don't show up late. Thursday the 14th we have a very rare cask of Sierra Nevada Porter at 5 pm. I have never had this beer on cask but I am very much looking forward to it. We will also tap a five gallon cask of Port Brewing's Hot Rocks Lager. And just because that is not enough, we will have a keg of Ballast Point Dorado on tap. Friday the 16th we will tap a keg of Ballast Point Sculpin when we open at 11 am so that all of you lunch folks can have an excuse not to go back to work. Check out the Cambazola Melt and Cambazola Burger along with the new Summer Salad this week on the specials board from the kitchen. And we have ordered more torta bread for Friday so that we don't run out so fast. If you haven't tried one yet, you are missing out.
Over the weekend we have slightly new hours on Saturday. Because so many of you ignore the fact that we open at Noon and just come in anyway, we are going to start opening at 11:30 am for beer with the kitchen still open at noon. Do not take this as an opportunity to come in at 11 am. Saturday night, the 16th we will have a keg of Alpine Exponential Hoppiness at 5 pm. We will also have our regular 10% off all bottles special – including import bottles purchased to-go. The City Beat Beer Festival is Sunday the 17th in North Park. For more info visit www.sdcitybeat.com.
Next Week
Next week we have another banner week of beer events. Wednesday the 20th we have a double header – Stone Russian Imperial Stout on cask at 6 pm and Russian River Pliny the Younger on tap at 6 pm. Thursday the 21st we have another very special treat from Sierra Nevada, a cask of Southern Hemisphere Harvest at 5 pm. This is another beer we have never had on cask before and only 3 were brought down to the entire city. Friday the 22nd we will host a pint night with Simon Lacey, brewer of New English Brewing Company. We'll three of Simon's beers on tap which will include: Trooper's Tipple English IPA, Explorer ESB and Brewers Special Brown Ale. Simon will be joining us to answer questions about his beer and help us drink a few as well.
For Memorial Day weekend we will be open normal hours on Saturday the 23rd (now open at 11:30 am) and Sunday the 24th. However, we will be CLOSED on Monday the 25th for the Memorial Day holiday. So stop by over the weekend and enjoy some great food and beer and take Monday to BBQ at home with your favorite beers. I will be at home cooking up some dry rub ribs for the occasion. Since we will be Closed on Monday, we will feature Fish and Chips and Fish Tacos on special both Saturday and Sunday. Also over the Memorial Day weekend, the Toronado in North Park will have its First Anniversary Party. Congrats to Ian and his staff and when I have more details I will pass them along.
Some last notes for you: VIP tickets for the San Diego Real Ale Festival on June 12th and 13th are now on sale at www.pizzaport.com. Tickets are $40 and get you into the special 1-4 pm Friday VIP session with limited ticket sales and some special VIP casks and bottles. This session sells out every year in advance, so if you want to go, buy your tickets now. Tickets for the regular festival hours will be $25 and are only available at the door. Lindsey has made fresh batches of her popular Beer Cheese. We now have Guinness and Cheddar, Guinness with Bacon and Green Onion and Guinness and Chipotle all available To-Go. Look for the return of the Alaskan Smoked Porter and Bacon beer cheese soon. Wednesday the 27th is the UEFA Champions League Final at 11:30 am – Barcelona v. Manchester United. Thursday the 28th we will tap a cask of Sierra Nevada Stout at 5 pm.
That is your good beer news for now. Look for a shorter email next week. We'll see you soon for a great beer. Cheers, Tom
Tom Nickel
O'Brien's Pub
20 Taps – Tons of Hops
4646 Convoy Street
www.obrienspub.net