Volunteer for The 3rd Annual Hangar 24 AirFest – May 16, 2015
(Redlands, CA) – Hangar 24 Charities will bring world-class aviation and a day of family fun to the Redlands Municipal Airport for the third year in a row on Saturday, May 16th.
This year's AirFest and Anniversary Celebration will run from 12pm until 10pm, and will bring a huge range of aviators, vintage aircraft, and musical acts to the city. A Kid's Zone will feature family-friendly attractions for young children, and a huge variety of food vendors will be on-site serving up dozens of different types of festival fare.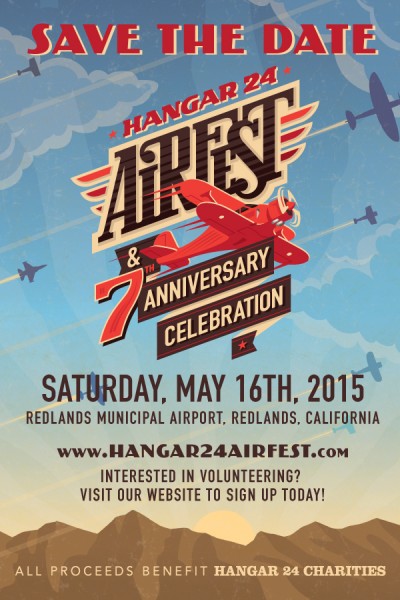 The Hangar 24 AirFest website has been updated with initial information about the event, including a call for volunteers. Volunteers at the event will receive free entry to the event, a unique volunteer T-shirt, and an invitation to a volunteer party later in the year. Sponsorship information has also been updated for 2015.
Hangar 24 Charities is expecting to bring at least 15,000 people to the Redlands Airport for the single-day event.
The event also celebrates Hangar 24 Craft Brewery's seventh year of brewing, and the brewery will release a 7th anniversary beer at AirFest on draught and in limited edition bottles. At least 35 different Hangar 24 beers from throughout the years will be available to attendees, allowing guests to take a trip back through seven years of locally brewed beer.
About Hangar 24 Craft Brewery: Hangar 24 Craft Brewery was founded in 2008 across from the Redlands, California airport.  Widely known for their flagship beer, Orange Wheat, the brewery takes its name from the hangar in which Founder and Master Brewer Ben Cook and his fellow pilots would meet up with family and friends for a day of flying. Afterwards they would share stories, barbecue, play music and enjoy Ben's latest batch of homebrews. Hangar 24 Craft Brewery embodies that spirit: good beer, a love of flying and the pure enjoyment of being among good friends.
About Hangar 24 Charities: Hangar 24 Charities was formed to preserve the actual and historical significance of the agricultural industry in the Inland Empire and to carry on charitable activities associated with this mission.