Upright Brewing – Late Harvest Bottle Release Party!

Come celebrate the release of our long awaited new limited bottling for Late Harvest with us at the Upright Tasting Room on Sunday August 8th during the regular Tasting Room hours of 1 to 6pm. In addition to bottles of Late Harvest we will have special beers on draft.
Description:
Late Harvest is a Pinot Noir barrel-aged farmhouse-brown ale brewed with pomegranate seeds, grains of paradise and Tasmanian peppercorns, all of which produced a tart, complex and balanced beer. The aroma and flavor are both reminiscent of some Italian-style bitters with an herbal and spicy character while it maintains a rich grain profile by heavy use of caramel malts and rolled barley. Late Harvest was brewed August 11th 2009 and barrel-aged for over 8 months before yielding only 75 cases being cellared at the brewery until it's release. 7% abv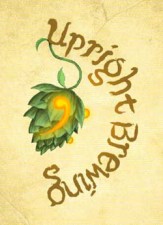 Upright Brewing is known for their Northwest interpretation on french and belgian-style farmhouse ales. Upright Brewing employs open fermentation on all of its regular lineup of beers and uses a distinct French Saison yeast strain. Upright also has spent much time exploring pinot barrel aging and even using Gin barrels. The brewery has recently been featured as one of the best and most unusual new breweries in The Oregonian, LA Times, Portland Monthly, Basic Brewing Radio, Hop Cast and more.
Upright Brewing
240 N. Broadway @ Leftbank Project Suite 2
Portland, OR 97227
Tasting Room open 430-9pm Fridays, 1-6pm Saturday & Sunday, 6pm-gametime before Blazers games
Twitter! ♦ Facebook! ♦ On the Web!