United States Open Beer Championship will be July 12, 2012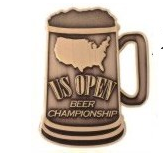 Atlanta, GA – February 13, 2012 – The entry date for the 2012 United States Open Beer Championship will be July 12, 2012 with the winners being announced on July 31, 2012. The U.S. Open is the only brewery competition to include professional breweries and award-winning home brewers. Last year, the entrants included more than 1200 beers in over 50 different categories.
Deschutes Brewery of Bend, Oregon was named 2011 Grand National Champion by winning three gold and five silver medals. This victory is the second time Deschutes has won the U.S. Open Title. Cigar City Brewing of Florida and Grand Teton Brewing of Idaho tied for second by each winning four gold medals and 1 silver. In all, over 70 individual breweries won at least one medal and 20 won two or more.
National Home Brew Winners, Matt Tucker and Jake Tucker from Oviedo, FL, won a silver medal for their English Pale. Stacy Myers took a bronze for her ale in the Rye/Roggen category . Phil Sullivan also took a bronze for his Sully's Belgian Blonde in the Belgian Ale Category.
Call for Entries   The deadline for entries for the United States Open Beer Championships will be July 12th. Winners will be announced July 31st. Each brewery may enter a maximum of 10 beers. In order to help small brewers in these tough economic times, each brewery will be allowed to enter 2 beers with no entry fee. If a brewery wishes to enter more than 2 beers, there will be a $50 entry fee per beer. A brewery must submit a minimum of 5 beers to be considered one of the Top Ten Breweries. Entry Forms and Rules can be found on the competition's website at U.S. Open Registration.
Over 50 categories will be judged. Winners will receive a medal in the shape of a beer stein for 1st, 2nd and 3rd place. Beers placing in the top 10 of each category and top 10 breweries overall will be featured in America's Best and Top 10 as well as BeerInfo.com. Along with the medals awarded, a Grand National Champion accolade will be awarded based on a point system for beers (5 minimum) entered in the competition.
To see last year's individual winning brews and other winners' and entrants' details go to www.USOpenBeer.com. The United States Open Beer Championship invites more than 1,000 hailing from over 30 countries as well as the 29 National Homebrewing Champions from the United States and Canada to participate. 
For more information:
Dow Scoggins
Director: U.S. Open Beer Championship
Phone:334-444-3346
Email: [email protected]