Third Annual Frederick Beer Week Announced, Names Charitable Beneficiaries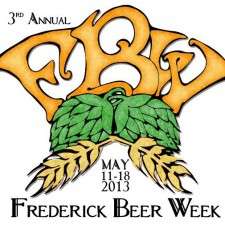 Frederick, MD – The Frederick Beer Week board of directors proudly announces that the co-beneficiaries from this year's feature events will be Goodwill Industries of Monocacy Valley and Team Rubicon. These non-profit organizations will benefit from a series of events taking place from May 11 through 18 in the City of Frederick and at venues around Frederick County, starting with the popular Brewfest at the Farm, hosted by Stillpoint Farm in Mount Airy.
Founded in the autumn of 2010, Frederick Beer Week was designed to be a celebration of local craft beer. Each year, the Frederick Beer Week board of directors contributes proceeds from premier, beer-centric events to at least one organization striving to make a positive impact on our community. To date, Frederick Beer Week events have raised more than $13,000 for local non-profits. For the first time in Frederick Beer Week's history, the board has selected two beneficiaries.
Fans of Frederick Beer Week can expect the return of many of the popular events, including the multi-brewery beer festival hosted by Stillpoint Farm, as well as the Battle of the Bubbles homebrew competition, tap takeovers, beer tastings, and Beer Judging 101. Amongst those events will be a handful of premier events held with the purposes of raising funds for Goodwill Industries of Monocacy Valley, and Team Rubicon.
Born from a simple tweet between a beer writer and Flying Dog, Frederick Beer Week quickly evolved into a collaborative effort between the members of the Frederick Beer Week board, which includes representatives from all of the Frederick County brewing concerns; Barley and Hops, Brewer's Alley, Monocacy Brewing Company, The Flying Barrel, Flying Dog, Frey's Brewing Company, Frederick's Original Ale Makers, and The Milkhouse Brewery at Stillpoint Farm.
Goodwill Industries of Monocacy Valley is a non-profit organization that believes in giving people "a hand up, not a hand out." Since 1969, Goodwill's mission has been to "create hope, jobs and futures in our community" by providing free job training and placement programs for individuals with disabilities and vocational disadvantages. Used goods donations play a pivotal role in Goodwill's ability to fulfil their mission. Goodwill collects donated clothing and household goods, and then sells those items in their Retail Store & Donation Centers throughout Frederick and Carroll Counties.
Created in January 2010, Team Rubicon has impacted thousands of lives – in Haiti, Chile, Burma, Pakistan, Sudan, and here at home, in Vermont, Maryland, Missouri, and Alabama. TR reaches victims outside the scope of where traditional aid organizations venture; victims on the fringe. TR is a disaster relief organization and a veteran-focused enterprise. It is a new paradigm in disaster response while redefining the meaning of veteran reintegration into society. Hundreds of US military veterans, many returning home after fighting ten years of war, find a renewed sense of purpose for their skills and experiences through TR.