The Third Annual Rocket City Brewfest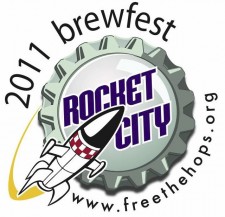 Huntsville, AL – Brought to you by the folks at Free the Hops, the Rocket City Brewfest is a weekend event dedicated to our favorite adult beverage. We gather the best beer available in the Tennessee Valley, with an emphasis on local and regional breweries.
A lot has changed since we first introduced this event in 2009. After we were successful in our campaign to pass the Gourmet Beer Bill, Huntsville has become the beer capital of Alabama with 3 local breweries and even more on the way.
Come join us for one of our weekend sessions. Sample some of the best craft beer available – brewed down the road, throughout the country, and throughout the world.
The Rocket City Brewfest is held during two sessions
Friday Evening Session
Friday, May 13 from 7:00PM to 11:00PM
Saturday Afternoon Session
Saturday, May 14 from 4:00PM to 8:00PM
There are several ways to buy advance tickets to the 2011 Rocket City Brewfest. Some options may sell out before others. Keep in mind that tickets will only be available at the gate if we have not sold out for that session in advance.
From several local retail locations: $29
Liquor Express 1802 University Drive Huntsville, AL 35801 (256) 539-4333 map
The Nook 3305 Bob Wallace Ave SW Huntsville, Alabama (256) 489-0911 map
The Stem & Stein 10871 County Line Road Madison, Alabama (256) 325-3779 map
Bandito Southside 11220 South Memorial Parkway Huntsville, Alabama (256) 489-3232 map
Online through Ticketmaster: $29 + fees
At the Gate the day of the session: $38
Designated drivers: $10
Designated Drivers will receive 5 tokens which may be redeemed for soft drinks, snacks, and will be accepted by our food vendors.
For more info visit rocketcitybrewfest.com