The Great American Barbeque & Beer Festival Set For March 23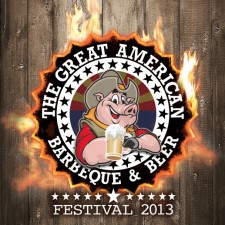 30 of Arizona's prized BBQ'ers, 20,000 lbs of finger licking good meats, 200 kegs of craft beer and family friendly fun for all in downtown Chandler
Chandler, AZ – Professionally produced by HDE Agency, The Great American Barbeque & Beer Festival will return to fill the downtown Chandler air with the sweet aroma of BBQ pork, beef, chicken and ribs. HDE Agency is pulling out all the stops this year with a massive event planned that includes over 100 exhibitors, and more than 30 BBQ vendors from across the nation serving up over 20,000 lbs of mouth-watering pork ribs, pulled pork, brisket and chicken paired with the state's finest craft beer.
Patrons will enjoy live entertainment, themed activities, an expanded kids zone hosted by Radio Disney, eating competitions and much more. Some changes this year include more family friendly fun, water play, family entertainment and more of what everyone comes for—BBQ & beer!
"BBQ is back! This is my favorite event of the year, I love bringing the community together to enjoy a plate full of messy ribs, ice cold craft beer and family fun," said Landon Evans, creative director at HDE Agency.
"Last year was a huge success, I'm looking forward to building on that momentum with the addition of more family activities, national entertainment and the chance to enjoy the best BBQ Arizona has to offer."
General admission tickets are $10 and that includes entry into the event at noon. For a limited time, VIP admission tickets are available through presale only at $98 each. VIP includes catered food by Porkopolis, alcoholic beverages, soft drinks, private restrooms, private seating and up front access to national headlining entertainment. VIP is for guests 21 years and older ONLY. Visit www.chandlerbbq.com to purchase presale and VIP tickets.
To accommodate the growing number of BBQ fans, the festival will span the entire AJ Chandler Park East and West as well as connecting Arizona Ave., which will be closed from Buffalo St. to Boston St. for the festivities.
After receiving regional and national attention in 2012, the Great American Barbeque & Beer Festival was awarded the title of Outstanding Event of the Year at the 18th Annual AzTEC Awards and was recognized by CNN Money Magazine as a contributing factor in recognizing Chandler, Arizona as #49 out of 100 for best places to live in America.
For more event information be sure to "like" this event on Facebook at www.facebook.com/bbq.beer.music and follow on Twitter @BBQBEERFESTIVAL for entertainment announcements, a chance to win free tickets and more event details as they roll out.
The Great American Barbeque & Beer Festival official sponsors include Bashas', Downtown Chandler Community Partnership, SanTan Brewing Company, BBQ Island, AZ BBQ Club, Local First AZ, Yelp, KUPD, Porkopolis, Bulleit Bourbon, Woodcraft, Von Hanson's Meats & Spirits and White Water who all remind you to BBQ and Beer responsibly.
A portion of the event proceeds will benefit the Downtown Chandler Community Foundation (DCCF), a 501(c)(3) not-for-profit charitable foundation. The DCCF is responsible for the fundraising activities of the Downtown Chandler Community Partnership (DCCP). They provide a conduit for grants and sponsorships from public agencies, corporations, foundations and other sources for dissemination to the District and community organizations. For more information about the DCCF visit www.downtownchandler.org/downtown-chandler-community-foundation.
About HDE Agency
HDE Agency is a full service agency dedicated to expanding client visibility and establishing marketable brand positioning. We offer a wide range of brand development services including public relations, design, advertising, social media, print collateral and event production. By establishing a strong foundation of action based campaigns, HDE Agency strives to transform our clients' goals and objectives into tangible efforts measurable by an increase of customers, sales and community relationships.
HDE Agency is one of the largest producers of special events in Arizona with an impressive roster of more than a dozen annual signature events. HDE's roster of special events includes the Downtown Chandler Oktoberfest, Taste. Chandler's Culinary Festival, Summer Splash and Ameri"CAN" Canned Craft Beer Festival.  HDE's most notable signature event, The Great American Barbeque & Beer Festival, is now in its fourth year of production and promises to be even bigger and better than last year. The 2012 Great American Barbeque & Beer Festivalwas designated as an official centennial event in the City of Chandler for 2012 and it won the title of Outstanding Event of the Year at the 18th Annual AzTEC Awards.
Visit HDE Agency online at www.hdeagency.com for a complete list of services and learn about our current projects, events and community engagements through the HDE Agency blog at www.hdeagency.com/blog.  HDE Agency can help you expand your reach!