The Bruery 2nd Anniversary Celebration Info Including Tap List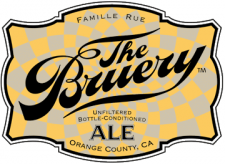 Come join us in celebrating our second year of brewing experimental and Belgian-style beers!
The celebration will be split into four, 3 hour sessions:
Session #1: Saturday, May 22nd, 12 PM – 3 PM
Session #2: Saturday, May 22nd, 4 PM – 7 PM
Session #3: Sunday, May 23rd, 12 PM – 3 PM
Session #4: Sunday, May 23rd, 4 PM – 7 PM

We'll be serving a wide variety of Bruery ales including Melange #3, Oude Tart, Humulus Rice, Seven Grain Saison as well as Coton, our second anniversary ale that has been aging in oak barrels and clocks in at 14.5% ABV. Each attendee will be given 10 tasting tickets, which will be redeemed for 2-5 oz. of beer, depending on the strength and rarity of the beer. No additional tasting tickets may be purchased. Each session will also feature food catered by Seal Beach's Beachwood BBQ including their legendary fried pickles and slow smoked meats as well as Belgian waffles, artisan cheeses, cured olives and other snacks.
Anticipated Tap List:
Orchard White
Saison Rue
Mischief
Rugbrød
Hottenroth Berliner Weisse
Saison De Lente
Trade Winds Tripel
Coton
100% Barrel Aged Coton
Melange No. 3
Melange No. 5 – DBJW (Very limited)
Melange No. Sechs
Oude Tart
Humulus Lager
Humulus Rice
Humulus Gold
Seven Grain Saison
Tickets will not be shipped– entrance will be will-call only. Only the person who purchased the tickets (or who is listed under "Shipping Address") may be able to check in at will call. 21 and over only, please.
Admission is $40 per person. To place an order, go to http://www.brueryprovisions.com/ , sign in, and click on the Anniversary Celebration tab on the left.
Looking forward to seeing you in a few weeks!
Cheers,
The Bruery