The Beer Circus is Coming to Town!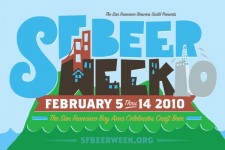 SF Beer Week 2010 ain't your grandparents' Beer Week. We've got more gizmos and doohickies than a barrel of pickles (or something). Step right up and check out the new, exciting, interactive website at www.sfbeerweek.org that went live at the beginning of the year. You can
link to hotel deals from the lodging page
find all your favorite events with the interactive map
submit events directly through the website
follow SFBW on Twitter (@sfbeerweek) and retweet about the new events so your friends can get excited, too
check out our flickr group (sfbeerweek) and post your mug shots (hah!) to add to the public gallery
head over to the iTunes store to download the SF Beer Week app! It's got a bunch of useful tools for all us Beer Week'lings, and the grand schedule automatically updates when new events post.
But if you're old-school and don't need all this fiddle faddle, you'll at least want to see our website's schedule. It's a veritable emporium of beer events, and we're adding new events every day. Mercy me!
Some recent additions and events in the works:
Celebrator Beer News Anniversary Party at Trumer Brauerei, the capstone celebration to finish up SFBW10
Meat the Brewers: South Bay craft brewers festival, with extensive meaty food pairings
A Farm-to-Table Organic Beer Dinner at Cafe Biere with Bison Brewing co.
A Mardi Gras Beer Dinner at the Moss Room with Abita Brewing Co.
Beer Trivia Night at Gordon Biersch Palo Alto
Beer Judging 101 and 201 classes at The Englander pub
A series of panel discussions on local beer history, brewing technique, a barrel-aging
New beer releases, including Napa Smith's Organic IPA, Gordon Biersch Brewery Restaurants' Special Bock, Uncommon Brewers' Organic Bacon Brown Ale, and ThirstyBear's Organic Red Stave Ale
I also want to mention a collective celebration of the work and life of Bill Brand, famed Bay Area beer writer and dear friend of the Bay Area beer scene. Bill's tragic death last year has prompted a collection of tribute beers, brewed by breweries all over the Bay Area, that will be available during SF Beer Week.
Thanks again to all of Beer Week's friends and sponsors, including our official sponsors, the SF Brewers Guild, Speakeasy Ales & Lagers, Gordon Biersch Brewery Restaurants, ThirstyBear Brewing Co., 21st Amendment Brewery, Magnolia Pub and Brewery.
Salud,
Rich Higgins
Bellhop, SF Beer Week Inn & Suites
www.sfbeerweek.org ~ Twitter: @sfbeerweek ~ facebook: san francisco beer week