The 3rd Annual IPA Festival @ Naja's Place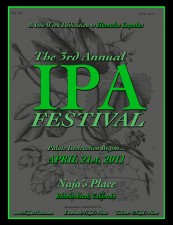 Redondo Beach, CA – Spring is upon us and that means it's time to pay tribute to a flower that is dear to our hearts… Humulus Lupulus
And so… It's time for Naja's Place to kick off our 3rd Annual IPA Festival on Thursday, April 21st, 2011 for one week.
To mark our 30th Anniversary, this year we will feature somewhere in the neighborhood of 50 of the baddest, rarest, and resinous IPAs, DIPAs, and IIPAs on the West Coast (and a few beyond).
This year we have several breweries contributing "exclusive" beers just for this festival (hell… it is our 30th anniversary!) and promise to have more casks (using the old school gravity-pour method) than in years past.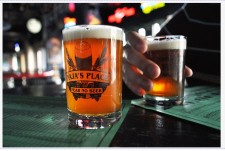 The official festival beer line up will be released in the next couple of weeks (in the process of acquiring all the goodies). We have decided to wait within the four week window to promote beer freshness and to insure its quality.
Once we get closer to the festival kick off I will send out the final beer line up… So if you do plan to attend (we'd love to see you!)… we'll arrange for Media Passes.
Please feel free to shoot me an e-mail… or give me a jingle… if you have any questions or just want to chat it up. Thanks again for all of your passion, hard work, and contribution to the growing Los Angeles craft beer movement!
Cheers…
Martin Svab
Assistant GM,
Naja's Place – 154 Internatl Boardwalk Redondo Beach, CA 90277-3611