The Full Pint 9th Anniversary Celebration – August 6, 2016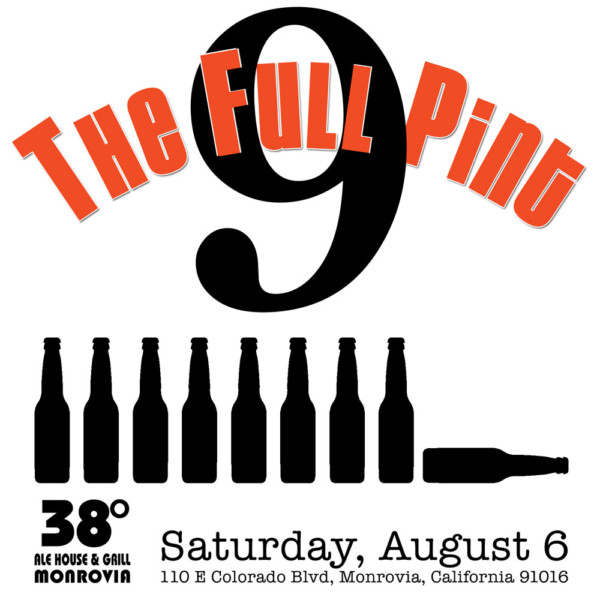 What: TheFullPint.com is ready to celebrate their 9th Anniversary of bringing craft beer news, reviews and event info, and will continue the tradition of holding an intimate party featuring the most rare and tasty beers we can get our hands on. We've been fortunate enough to partner with great venues and breweries each year, and every party seems to be better than the previous year. Read on for details about our VIP Session as well as our General Admission party for the public.
Where: 38 Degrees Ale House & Grill located at 110 E. Colorado Blvd Monrovia, CA 91016, right in the back yard of TFP Head Quarters in lovely Old Town Monrovia  http://38degreesalehouse.com
Date: Saturday August 6, 2016
VIP Session Details (tickets required): With the purchase of a VIP Session Ticket, you will be invited to the VIP Session from 4:30PM to 7:00 PM. You will be given commemorative glassware, 10 pours of beer (plus welcome pour) and will be given access to a beautiful food spread. During this time period, this will be closed to the public, so you will have time to have first crack at all these rare and amazing beers.
SOLD OUT   PURCHASE TICKETS HERE      SOLD OUT
PLEASE NOTE: You are welcome to stay and continue the fun after the VIP session ends.
How much: $85.00 + processing fee.
General Admission Details (No tickets required): Did you miss out on tickets? At 7:00 PM, you can gain entrance for $10.00, which gives you a commemorative tasting glass and access to all this rare and delicious beer.
Parking: The City of Monrovia has ample free public parking next to us, across from us, and all over Old Town. With that said, we recommend you use a taxi, Uber, Lyft or Metro Gold Line so you don't make any bad decisions after indulging.
Public Transportation: Whether you are on the West Side, Orange County, San Diego, or even San Francisco, you can connect to Union Station in Down Town LA and take the Metro Gold Line, which is a half mile from the venue. https://www.metro.net/riding/maps/gold-line/
Participating Breweries: Here is our tentative lineup of participating breweries. For the past few years, we've had a 99% success rate, however certain last minute problems may arise. More to be added, beer list unveiled before the party!
3 Sons Brewing – BA Imperial Double Scoop
Abnormal Beer Co. – Big Poppa (Collaboration with J. Wakefield, Mostra Coffee and Jay Pizarro‎)
AleSmith Brewing – Vanilla Coconut Speedway Stout
Alpine Beer Company – HFS!
Bottle Logic Brewing – Darkstar November
Boneyard Beer – Notorious Triple IPA
Breakside Brewing – The Pathfinder (Double IPA aged in Gin Barrels, then blended back with fresh ale)
Cascade Brewing – Fully Stoned (Custom blened Stone Fruit Barrel Aged Sour Ale)
Cellarmaker Brewing Are You Afraid of the Dank DIPA
Chapman Crafted – Lost Invitation DIPA (HAY HERBIE, TFTI)
Cigar City Brewing – Hunahpu's Imperial Stout Vintage 2016
Cycle Brewing – Crank IPA
El Segundo Brewing – DFJ IPA – (Custom made Simcoe Double IPA)
Faction Brewing – The Full Pint 9th Anniversary IPA (New Recipe)
Firestone Walker BarrelWorks – Brains on the Table (Collaboration Blend with Barrel Works and The Full Pint)
Good Beer Company – Blackberry Oro with Lavender
Half Acre Beer Co. – Gin Barrel Aged Pony Pils
Highland Park Brewery – Raised Eyebrows
Hill Farmstead – Arthur
Ironfire Brewing – Purity What?? (Custom made German IPA for this event)
J. Wakefield Brewing – Tony Bag o' Donuts – (Passion fruit Sour Saison brewed with Long Island City Brewing)
Maui Brewing – Imperial CoCoNuT Porter
Mikkeller San Diego – Zest Coast Saison (Collaboration with TFP – Saison with Vanilla Bean and Citrus Zest)
Monkish Brewing – Brett Heart (Fruited grisette made for this event)
Mostra Coffee – One Bra-Zillion CocoaNuts
Noble Ale Works – Mulatu's Java 'N Jazz (Naughty Sauce with Ardi)
Pipeworks Brewing – Fully Hoperational Battlestar
Pizza Port Carlsbad – Switching Numbers (IPA Collab with The Full Pint)
Sante Adairius Rustic Ales – West Ashley
Smog City Brewing – Cuddlebug
Stone Brewing – The Full Pint 9th Anniversary IPA (Custom made IPA with experimental hops)
TAPS Fishhouse & Brewery – The Landing Zone
The Bruery – Wee Heavy Coconuts
The Lost Abbey – Barrel Number 095 Blonde Sour with Elderflower and Peaches
The Rare Barrel – Ensorcelled
Tired Hands Brewing – Pineal Oat IPA
Wiegand Family Distribution Beers
Wicks Brewing – TFTI-PA