Strong Beer Festival – AZ Beer Week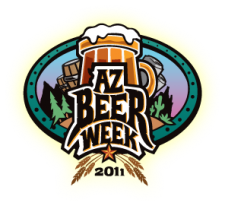 Arizona Beer Week kicks off with the 11th Annual Arizona Strong Beer Festival, held at Steele Indian School Park in Phoenix on February 19th, 2011.
Although strong beers (those with high alcohol content) are the focus at the festival, a huge variety of craft beers – as well as specialty styles and unique, just-for-this-event brews – are made available to festival-goers, who will receive a commemorative four-ounce tasting glass and 15 tasting tickets for the price of admission.
And because food and beer just naturally go together, there will be plenty of top-notch food vendors on hand, serving up tasty eats that wash down well with frosty suds. Live music will keep the atmosphere rockin'.
Presented by The Arizona Craft Brewers Guild.
* VIP admission begins at 12pm
* General admission begins at 1pm
* Event ends at 5pm
* Ticket purchasers and all guests must be 21 or over
* Children under 8 admitted with parent.
* Valid picture ID must be presented for admission.
* This is a rain or shine; no refunds or transfers allowed
* Tickets will be limited to avoid overcrowding.
All tickets include admission, one 4-ounce commemorative tasting mug and 15 tasting tickets (each good for one 4-ounce beer taste). Food is available for purchase.
VIP Ticket — $40 + fees
* Limited to first 499 people, allows for early entrance at 12pm
* Advance sale only, while tickets last
Presale General Admission Ticket — $30 + fees
* Presale ends February 1st, 2011
* Allows for entrance at 1pm
General Admission Ticket — $35 + fees
* Available for purchase online or phone
* Online sale ends Thursday, 2/17 11:59pm
* Allows for entrance at 1pm
At The Gate Ticket — $40
* Available for purchase at the gate, on the day of the event
* (As ticket supplies last, please check website day of for availability)
* Allows for entrance at 1pm
Designated Driver Ticket — $10
* Allows for entrance at 12pm
* Does not include tasting tickets or mug
Admission will be limited to avoid overcrowding.
Participating Breweries:
Four Peaks Brewing Company
SKA Brewing
Crispin Cider
Great Divide Brewing
Pizza Port Brewing
A-1 Beer Can Collectors Club
Arizona Society of Homebrewers
Sierra Nevada Brewing
Grand Canyon Brewery
Lumberyard Brewing
Big Sky Brewing
Sam Adams
Breckenridge
BJ's
Gordon-Biersch
Deschutes
Dogfish Head
Full Sail
Coronado
Marin
Rubicon
Sleepy Dog
Big Dog
Papago
Barrio
Gentle Ben's
SunUp
Ballast Point
San Tan
Santa Fe
Left Hand
Nimbus
Sonoran
Rock Bottom
Thunder Canyon
Dave's Electric
Odell
Stone
more to come…..
Cost: $10-$40
Steele Indian School Park
3rd Street & Indian School Road
Phoenix