St. Patty's Day 2011 Craft Beer Roundup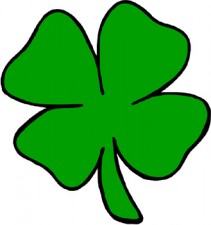 Celebrate America's favorite beer swilling holiday at one of these fine establishments. Have St. Patty's Day with a craft beer. Cheers, Danny Boy O' Fullpint
O'Brien's Pub in San Diego – "Thursday will be the big day where we will have even more great food specials like corned beef and cabbage plates (with mashed potatoes and an incredible Guinness beer gravy that is good enough to drink by the pitcher) and Guinness stew (which is also good enough to consume by the pitcher, though a bit thicker and chunkier).
You'll find Irish Nachos on special both Wednesday and Thursday too.  We'll tap a cask of Alpine McIllhenney Irish Red at 5 pm.  Guinness, Harp, Murphy's and Kilkenny will all be on tap and we'll be throwing on a keg of Alpine Captain Stout.  Assuming we don't kill the Sea Monster on Wednesday, it will be back out for Thursday night.  We'll be pouring half and halfs (Guinness and Harp), Black and Tans (Guinness over Alpine Irish Red) and Snake Bites (Guinness over Pear Cider) all throughout the day.  San Diego State plays its opening game at 1:40 pm and we'll turn the sound on for the game.  There will be basketball all day long on four different channels."
Pisgah Brewing in Black Mountain,NC – "DRINK SPECIALS- $1.00 off all Stouts and IPA all day long!…Music  from Danny Barnes kicks off @ 9:00pm FOOD: Charles' Jamaican Jerk Chicken – Only $6/plate!"
Chef Sean Z. Paxton – The Homebrew Chef shares his Lamb Shepard's Pie With Ale recipe. http://3.ly/tgpE
Watch City Brewing in Waltham, MA – " Come on down to the Watch for a day of music, beer, food and fun. We will be running our St. Patrick's Day Buffet all day long. This years buffet will include corned beef, boiled cabbage & potatoes, beef stew, shepard's pie and bread pudding with Irish whiskey hard sauce. We will also have live Irish music all day long. We hope to see you there!"
Cape Cod Beer – Here is Todd Marcus' plea not to drink Green Beer. He has me until the Budweiser part – "A few years before there was a Cape Cod Beer, I was asked to tint an entire keg of Bud green…ok more like TOLD to tint a keg of beer green…and while it went against every fiber of my being, I went about it scientifically, even going as far as calling the company that made green food dye (you know the stuff..four bottles: red, green, blue and yellow) and even talked to the guy at the factory who made the green dye. From that day forward I SWORE that I would not only not make another keg of green beer – I would advocate AGAINST it.  So, no matter what you drink on "the day everyone is Irish"..whether it be Cape Cod Beer, Harp, Guiness, Murphy's, Smithwick's or Bud…for goodness sake.. DON'T DRINK GREEN BEER!"
Moylan's and Marin Brewing in No Cal – " St. Patricks Day is Thursday March 17th!!! Marin Brewing Company & Moylans Brewery will both be having parties to celebrate with Corned Beef & Cabbage, Bag Pipers & Loaded Beer Lists!!!"
Rubicon Brewing in Sacramento, CA – "Rubicon's Irish Red & Irish Stout plus Murphy's Irish Stout on tap! and…Corned Beef and Cabbage Specials All Day!"  "In Heaven there is no beer…? That's why we drink ours here. – Anonymous Irish Toast "
Big Boss Brewery in Raleigh, NC – Big Boss will be hosting "Who's Your Paddy?" Another Food Truck, Beer and Music event from Big Boss Brewing. Click here for tons of details on this St. Patty's Day Throwdown. http://3.ly/QRAS
Trappeze Pub in Athens, GA – "Join us this Thursday as we toast the patron saint of beer at Trappeze. We will be pouring many of our favorite Irish and Irish-inspired beers. Our featured St. Patrick's day beer will be Victory's Donnybrook Dry Irish Stout that will be only $3 a pint! Our chef will also be rolling out a host of classic Irish dishes for your dining pleasure. Join us for an all day celebration of good beer, good food, and good friends!"
Pagosa Brewing in Pagosa Springs, CO – "A VERY special release for St. Paddy's Day! Fire-Stoned Irish Red Ale, which is made using the ancient method of adding super-heated stones during the brew. The process infuses the beer with wonderful toasted caramel notes, giving great flavor and yet, a dry finish, for an easy drinking Irish pint." Also stop in for Beer and Food pairings, contests, and Irish Whiskey Tasting Flights.
Pike Brewing in Seattle, WA – " You don't have to be Irish to love Pike Kilt Lifter. Please join us at 6:00 p.m. on Thursday, March 17 when once again we welcome the 23-piece Elliott Bay Pipe and Drum Band. "St. Paddy's Pike"  is a tradition not to be missed! Savour Chef Gary's slow roasted, malt syrup glazed house-made Corned Beef and Cabbage; be thrifty with happy hour prices all day long on pints of Kilt Lifter Scotch Ale; and "Wear the Green" with Kilt Lifter t-shirt specials, for an all around good time ."
The Bruery Provisions in Orange, CA – " Being a very important week in the world of beer drinkers – no, not the ides of March, but St. Patrick's day! – we've got a couple of cool beer flights to help you celebrate. First off, tomorrow night we'll be featuring a special flight of stouts that should help you get an idea what you might want to be drinking when Thursday rolls around and secondly, we'll be putting on a special flight of Irish and Irish-style beers to celebrate St. Patrick's day the right way on Thursday night. We'd love for you to stop by for one, if not both of those tastings." Go to their website for more details. http://www.brueryprovisions.com/
Blue & Gray Brewing in Fredericksburg, WA – " Please be our guest…this Thursday, St. Patrick's Day, 2011 at Lee's Retreat Brewpub. This Thursday only (11am-9pm) we'll give you a commemorative 2011 St. Patrick's Day 2011 pint glass when you come in and lift a pint to St. Patrick and the Emerald Isle at Lee's Retreat. We'll make it even easier…$2.00 pints of Stonewall Stout all day!" In addition to our world-famous slow-cooked Stonewall Stout corned beef reuben, shepherd's pie and fish-n-chips we'll have other traditional Irish favorites. On Thursday enjoy bangers and mash, lamb chops, and Chef's special Salmon steaks. Traditional Irish music will be piped in (no pun) all day through our new sound system. The lads eat free this Thursday too. Kids under 5 get free "Pot O' Gold" macaroni and cheese. Date: Thursday, March 17th, 2011 Time: 11:00 AM-9:00 PM Location: 3300 Dill Smith Dr., Fredericksburg, Virginia 22408 Phone Reservations (suggested): 540-371-7799 Email Reservations: [email protected]"
Blue Palms Brewhouse in Hollywood, CA – "Joins us for Some Cheer & Beer ON TAP: Guinness on the Randall with Coffee & Dried Cherries, Pizza Port Carlsbad Truck Stout ~ Nitro ,Pizza Port Snake Bite ,Murphy Stout ~ Nitro ,Murphy Red, Oharas ~ Nitro Victory DonnyBrooks Stout ~ Nitro ,Taps Red, SmithWicks ,Guinness ~ Nitro & Many More!! $5 CarBombs @ the Top of Every Hour!! Jameson Whiskey St. Patrick's Day Food Specials Corned Beef Cabbage w/ Red Potatoes Beef & Guinness Stew Shepherds Pie Guinness Ice Cream w/ Chocolate"