St. Patrick's Day Craft Beer Roundup 2012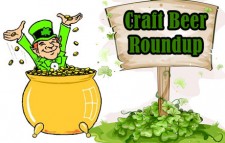 If you don't want to just stay home and embrace your Irish roots this Saturday, here are some fun events around the map that will involve some tasty beer and food.  Have a Happy and Safe St. Patrick's Day. Cheers!
From McGillin's Olde Ale House  Philadelphia, PA "St. Patrick's Day — The craziest, busiest, funnest night of the year at McGillin's is St. Patrick's Day. Don't miss the tavern's 152nd St. Patrick's Day celebration on Saturday, March 17. The city's oldest and best St. Patrick's Day party overflows with green beer, authentic Irish brews and cocktails, Irish food and a big green crowd. Opening at 10 a.m. – one hour early. $2 cover."
Obrien's Pub San Diego, CA "We get a double dose of St. Patrick's Day on Friday the 16th and Saturday the 17th.  We'll have beer boiled Corned Beef and Cabbage both days along with some great beers on tap.
Thomas Creek Brewing  Greenville, SC – The St. Patrick's day themed event is scheduled for Saturday Feb 18 at 1:00 p.m. inside Earth Fare's (Pelham Rd) special events room, and there is no cost to attend.  Chef Granata will be putting a menu together that will encompass a full variety of St. Patrick's Day favorites and some specialty items.  Thomas Creek will be pairing beer with these wonderful dishes.  Call Earth Fare at (864) 527-4220 for more details.
Willmantic Brewing Willmantic, CT –  Join us on St. Patrick's Day, the day where everyone is Irish. We'll have traditional Corned Beef and Cabbage, Draught Beer Specials, Jameson, Irish Music, Irish Coffees, Giveaways and Prizes! Going anywhere else would just be malarkey!
Southampton Publick House Southampton, NY –  Saturday, March 17th: ST. PATRICK'S DAY– Enjoy Traditional Irish Menu ALL DAY. 2 Taprooms. $3 Sullivan's Irish Ale All Day & Cream Stout, and Jameson Whiskey Drink Specials.
Saint Arnold Brewing Houston,TX
Our annual St. Patrick's Day party is rapidly approaching. We have our bourbon barrels full of imperial stout aging and getting ready to be casked for the event. And our special St. Patrick's Day pint glasses are waiting to be filled with wonderful elixir. You can bring your own favorite Irish stew.Don't forget the spectacle of our Donegal Beard competition! You can come see how the contestants, clean shaven at the beginning of the year, look with their new, stylish whiskers!Admission which includes a commemorative pint glass will be $23. Attendance is limited. This event sells out quickly every year. Here are the specifics:When: Saturday, March 17Where: 2000 Lyons AveTime: 6 PM to 9 PMCost: $23 (payment in advance is required)

Includes: Commemorative pint glass

For reservations, please follow this link.
Twisted Pine Brewing Boulder, CO March 17th: St. Patrick's Day Party! Join us for beer jello shots, Irish food specials and the tapping of Peppermint Paddy-Chocolate and Peppermint Cream Stout.
Drake's Brewery Event in Richmond, CA – St. Patrick's Day Beer Dinner in Richmond, CA March 17, 6-8pm; at the Boilerhouse Restaurant in Richmond, CA Come join us for a 4-course Irish meal paired with our delicious brews. We promise, none of the beers will be green… For more information, click here. 
Ladyface Alehouse & Brasserie Agoura Hills, CA –  Saturday, March 17  Come to the land of magically delicious beer, turned green at your command by our charming bartenders. There will be corned beef sliders with a strolling fiddler playing in the afternoon. Corned beef and cabbage is on the dinner menu, and we will be hosting Nate Highfield for an evening of Irish folk songs, fiddle and guitar starting at 6PM. No cover, no minimum, no end to good times!
Oskar Blues Grill & Brew Lyons, CO – Saturday the 17th is St. Patty's Day and we will have great Irish music by Kevin Dooley. Joining him will be Steve Mullins on mandolin, Margot Kimmel on Celtic harp and Beth Grabow on vocals and Irish drum.
Arbor Brewing and Corner Brewing Ann Arbor, MI – Both Arbor Brewing and Corner Brewery will be hosting their annual St. Patrick's Day celebration. Wake up early for a Top O The Morning, all you can eat, breakfast buffet starting at 7am which includes happy hour pricing. Don't worry if you miss the morning festivities since there will be food and beer specials all day. You can guarantee a wide selection of stouts.
City Tavern in Culver City, CA will be rolling out some St. Patrick's Day specials from Chef Jessica Christensen including a corned beef hash and a luxurious honeyed whiskey bread pudding served with stout caramel. Take your pick of CA-brewed stouts and Irish reds or take advantage of their Dew & Brew special which gets you a free beer taster with purchase of a shot of Tullamore Dew. Tavern opens at noon on Saturday, March 17th and the kitchen starts serving at 3:30pm.
Founders Brewing Grand Rapids, MI – Saturday, March 17th 9:30pm $5 Founders Brewing Company is pleased to present our annual St. Paddy's Day Party starring Rootstand (Rebel Rootsgrass and Reggae – Swashbucklin' Folk and Blues from Traverse City)
Tyranena Brewing Lake Mills, WI –  Saturday, March 17 – St. Patrick's Day. Not sure that that means anything in particular… but just so you are aware… 🙂
Heavy Seas Brewing Event at Balto, MD –  Mar 17 – 12:00pm – 4:00pm Enjoy St. Paddy's Day festivities with Heavy Seas! Bo Brooks will be tapping a special firkin of Green Gold Ale to kick off the day. This is high-quality green beer that you don't want to miss!
Tony's Darts Away Just when you thought the fun would be over, Tony's Darts Away in Burbank, CA has a Post St. Paddy's Day Brunch that will (possibly)  keep away the demons from the night before. Stroll in beginning at 10am for a hearty brunch featuring specials like corned beef & eggs and TDA's famous Biscuits & Gravy (which has a vegan counterpart that can even make the biggest meat-lover a fan). Wash that goodness down with some California-brewed stouts, locally roasted coffee, or even their Beermosas featuring Golden Road Hefeweizen and fresh OJ.
Great Lakes Brewing Cleveland, OH – Mark your calendars and celebrate St. Patrick's Day with Great Lakes Brewing Company! We have a fun-filled day planned with an Irish-inspired menu, Irish-style craft beers, free shuttle service to and from the parade and fantastic live music for everyone to enjoy!
Our bar will open early at 10:00 AM and our kitchen will open at 10:30 AM.
St. Patrick's Day Music Schedule:
12:00 PM – 3:00 PM: Ceud Mile Failte
5:30 PM – 7:30 PM: CRAIC
8:30 PM – 9:00 PM: Cleveland Firefighters Memorial Pipes and Drums