Sprecher Belgian-Style Dubbel Release Party TODAY!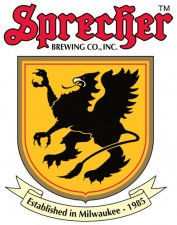 In driving distance of Glendale, WI? Head on down to Sprecher Brewing today for their Belgian-Style Dubbel Release Party!
Glendale, WI — The wait is over! After letting our Belgian-style Dubbel age 16 weeks, Sprecher Brewing Company is hosting a release party to celebrate not only this brewing accomplishment, but also, twenty-five years of brewing excellence (1985-2010). The release party takes place Saturday, June 19, 6-10pm.

Randy Sprecher will tap the first keg of this delicious ale made with imported malts, Belgian candi sugar, and Goldings hops. Aged four months, the medium-bodied, brown-colored ale – the only Belgian-style Dubbel made in Milwaukee — has a malty sweetness and a chocolate-like caramel aroma with a subtle bitterness.
DJ (TBA) and complimentary snacks all night long. No cover charge. Bring a ticket stub from the Milwaukee Firkin Festival and get your first Dubbel free! In addition to the Belgian-style Dubbel, a variety of Sprecher beers and sodas, Chameleon beer, wine and cocktails will be available for purchase.
Sprecher Brewing Company is located at 701 W. Glendale Ave, Glendale, WI. Brewery tours are offered throughout the week. Call 414.964.2739 for more information, or visit the website: www.sprecherbrewery.com.