Sierra Nevada Announces Beer Camp Across America Tour for 2016
(Chico,CA) – Back in 2014, Sierra Nevada Brewing took their collaborative Beer Camp project and turned it into a traveling beer festival. With the great friendships and resources, they were able to invite virtually every craft brewery in the country to pour beer at one of their stops. Great news, this will be returning in 2016 with a different set of cities selected, see below for more info.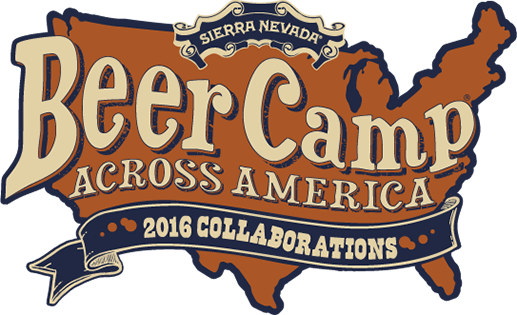 Sierra Nevada Brewing Co. will host its second Beer Camp Across America (BCAA) festival tour in June 2016 with stops in Tampa, Fla., Seattle, Milwaukee, San Francisco, Boston and Los Angeles. BCAA festivals will offer craft beer fans the opportunity to sample specialty brews from hundreds of local and regional brewers while interacting with some of the most influential names in craft brewing. Every craft brewery is invited to pour at any of the six festival locations. Each event will also celebrate and serve six limited edition collaboration beers – each one created by a different regional team of five breweries alongside Sierra Nevada.
WHERE & WHEN:
· Sat., June 4, 2016: Tampa, Fla.
· Sat., June 11, 2016: Seattle, Wash.
· Sat., June 11, 2016: Milwaukee, Wis.
· Sat., June 18, 2016: San Francisco, Calif.
· Sat., June 18, 2016: Boston, Mass.
· Sat., June 25, 2016: Los Angeles, Calif.
· May, 2016: Special release events in Chico, Calif. and Mills River, N.C. (dates TBA)
ABOUT BEER CAMP ACROSS AMERICA 2016:
Presented by Sierra Nevada Brewing Co., Beer Camp Across America (BCAA) is the largest craft beer celebration, bringing together brewers from every corner of the country to create one-time-only collaboration beers and to stage huge beer festivals in craft-centric cities. BCAA showcases the creativity and camaraderie that make American craft beer extraordinary, and everyone's invited—brewers and beer fans alike.
More information and updates available at www.sierranevada.com/beercamp and on Twitter and Instagram at @SierraNevada.
ABOUT SIERRA NEVADA BREWING CO.
Founded in 1980, Sierra Nevada Brewing Co. is one of America's premier craft breweries, highly regarded for using only the finest quality ingredients. The pioneering spirit that launched Sierra Nevada now spans both coasts with breweries in Chico, California and Mills River, North Carolina. Sierra Nevada has set the standard for craft brewers worldwide with innovations in the brewhouse as well as advances in sustainability. It is famous for its extensive line of beers including Pale Ale, Torpedo®, Hop Hunter® IPA, Nooner® Pilsner, Otra Vez™, Kellerweis®, Porter, Stout and a host of seasonal, specialty and limited release beers. Learn more at www.sierranevada.com and follow along for updates on Twitter and Instagram at @SierraNevada.