Short's Brewing – Recap of 7th Anniversary Party w/ Pics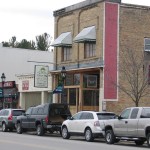 Loyal reader Kyle Howard sent in this wonderful recap of Short's Brewing's 7th Anniversary Party along with some great pictures. You the reader are more than welcome to submit write ups and pictures from beer events as well. You will be making thousands of our thirsty readers very happy. Cheers!
While thousands were gathering around a business park in Munster Indiana awaiting Three Floyds' new batch of Dark Lord, a more humble number of beer enthusiasts were checking into Bellaire, Michigan for Short's 7th Anniversary party.
Starting at three o'clock Saturday afternoon, the event featured dozens of Short's beers, tours of the brewery below the pub, unique food dishes, live music, and a "State of the Brewery Address" from Joe Short.
The beers were separated into two areas of the pub. The bar side included such beers as:
Anniversary Ale, Huma Lupa Licious, Magician, Pandemonium Pale Ale, Soft Parade, Bellaire Brown, Autumn Ale, Village Reserve, Locals Light, Pontius Road Pilsner, Chocolate Wheat, Sustenance Black Ale, Rye Not, Belgian IPA, Black Licorice, Bludgeon Yer EyePA, Bananarama, Key Lime Pie, Curl, and Hangin' Frank, while the new experimental and cask beers were pouring from a temporary setup in the other room.
The temporary bar offered: Whiskey Sour (Belgian sour and key lime pie aged in Whiskey barrels), 2008 Chocolate Raspberry Shorter ( Chocolate wheat with added raspberries), 2008 Noble Chaos, Good Samaritan, Carrot Cake, Mama's Strawberry Milk (strawberry ale aged in brandy barrels), Pineapple Side-Down Cake, 2008 Black Cherry Porter, Another Caucasian Gary ("White Russian inspired ale"), Richard in the Dirt (Triple) along with Anniversary Ale and Golden Rule on cask for their new "Real Ale" program.
If you signed up for one of the brewery tours, you were also treated to three more of the limited barrel aged beers with three to four ounce pours. Those were 2008 Bourbon Black Cherry Porter, 2008 Bourbon Wizard (barleywine with raisins), and the new batch of Bourbon Sustenance. For those that can appreciate big barrel aged beers, these beers were the highlight of the party.
Top-secret information regarding what's on deck for Short's (or at least what's sitting in the fermenters) was also captured on camera. From the looks of the brewers' dry erase board a Kolsch and "Ginger Oh Snap" beer are on the way.
Bands included Keith Scott, Valentiger, and Reggie & the After Party with a brief speech by Joe Short and a slide show showcasing the past year in between the acts.
New beers available to go in bottles were Bourbon Soaked Sustenance and 2011 Anniversary Ale (wheat wine with blood oranges and green peppercorns), both in six-packs, but nearly all the beers on tap pub-side were available to go in growlers.
Overall, the anniversary party was a fantastic celebration of Short's seventh year since it opened its doors in Bellaire, Michigan and it was done in style with exceptional food, beer, music and company. Cheers to SBC for the great times!