SF Beer Week – Come for the Bay, Stay for the Beer!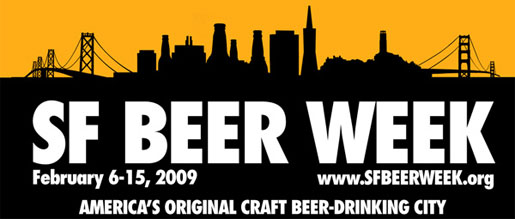 SF BEER WEEK is sailing fast towards having over a hundred unique events, surpassing expectations for an event still in its infancy, and setting the bar really high for next year's version. Over ten days in February, and all over the Bay Area, it will be a supreme challenge to see it all, but sensory beer overload was what this event has always been about.
As we get closer to the start date, we wanted to take time to showcase some events that feature something near and dear to our hearts, and our 2nd favorite thing in the world (#1 would be beer…), FOOD. Not just food, GREAT FOOD. The Bay Area has lots of it, and those of us who live here are either spoiled rotten by having it around all the time, or take it for granted because it is so easily accessible and all around us. Either way, it is a special treat to have so many great restaurants as part of SF Beer Week, and as their menus will attest, beer and food were certainly always meant to live side by side in harmony.
Beer and food pairings have become so much more dynamic in recent years, as chefs and brewers alike discover the endless possibilities inherent in our favorite elixir, as well as the variety of styles that are being brewed all around the world, and to many, most successfully here in the good ol' USA. And if don't think beer is the new wine, just ask Garrett Oliver or Michael Jackson, they will show you the way. So enjoy this sampling of SF Beer Week event menus, warm up your taste buds, and get ready for a great ride through Bay Area beer country!
And we're definitely not done adding events, we'll keep you posted on all the additions on our Twitter account, and a current events newsletter next week.
The Beer and Nosh Dinner at Scala's Bistro on February 11th, 2009
New American Food & New American Beer
Sacramento Brewing's Abbey Extra paired with House-made Pretzels with Beer Mustard
Triple Rock's IPAX India Pale Ale paired with Shrimp & Scallop Beignet, Hop Pesto
Shmaltz Brewing's Coney Island Albino Python paired with Local Squid, House-made Chorizo, Squid Ink Risotto, Pickled Fresno Chilies, Wild Arugula
Drake's Special Wine Barrel Blend (50% Merlot Barrel BrettAmber 50% Pinot Barrel Belgium Triple) paired with Duck & Pistachio Terrine, Smoked Raisin Mustard, Crystal Malt Crackers, Fried Pickle
Firestone Walker's Reserve Porter paired with Coffee & Malt Rubbed Beef Short Rib, Cocoa Nibs, Meyer Lemon & Tangerine Gremolata, Sunchoke Puree
Shmaltz Brewing's Coney Island Human Blockhead paired with "Blockhead" Cheese Course
Oskar Blues Ten-Fidy Imperial Stout paired with Ten-Fidy Gelato, Toasted Malt Crumble
Uncommon Brewers beer dinner by Chef Tod Williamson at Red Restaurant on Friday, February 6th
First: Gulf shrimp with a salsa verde cruda and Tobasco-butter sauce paired with Golden State Ale
Second: Braised pork belly in Cola, star anise, and tamarind with coriander apple chutney paired with Siamese Twin Ale
Main: Short ribs in Baltic Porter and apple juice with parsnip puree and a gratin of endive and prosciutto paired with Baltic Porter
After: Pickled red flame grapes under shaved chocolate with blood orange syrup paired with the unreleased Sinister Twin Ale
Stone Beer Dinner at the Monk's Kettle on Wednesday, February 11th
1st Course Salade Verte, Butter Lettuce, fresh herbs, Mustard Vinaigrette
Beer: Cali-Belgique IPA
2nd Course Butternut Squash Soup with fried pumpkin seed and spiced crème fraiche
Beer: Oaked Bastard
3rd Course Pan Seared Fish Thyme roasted Fingerling Potatoes, Delta Asparagus, Toybox Tomato Relish
Beer: Stone-Alesmith-Mikkeller Tripel
4th Course Slow Braised Short Ribs, Whipped Parmesan Yukon Gold Potatoes, Blue Lake Green Beans, Natural Jus
Beer: Smoked Porter
5th Course Chocolate Tuxedo Cake with White Chocolate Ganash, Crème Anglaise, Raspberry Sauce
Beer: 12th Anniversary Ale
Trailside Café Beer Dinner on Friday, February 13th
Appetizer-Homemade German bite size Pretzels, Paulaner Hefewiezen
Soup-Spiced Onion and Ale, Cháu Tiên Pale Ale
Entrée-Roasted Pork Tenderloin with a Raspberry Chipotle Sauce, served with Trailside Mashed Potatoes and Green Beans, Lost Coast Downtown Brown
Dessert-Homemade Beignets,Reutberger Helles
(Yes, there is beer in all of these recipes)
Sierra Nevada Beer Dinner at Meridian International Sports Café on Thursday, February 12th
Sierra Nevada Early Spring Beer, Truffled Kettle Corn
Sierra Nevada Wheat Beer, Bluefin Crudo with Crispy Taro, Wakame, Soya and Togarashi Spice
Sierra Nevada Stout, Cauliflower Bisque with White Truffle Froth
Sierra Nevada Harvest Ale,Scallop Risotto with Corn and Marjoram
Sierra Nevada Celebration Ale, Juniper Scented Venison Chop with Baby Root Vegetables, Caramelized Apples, Toasted Honey Glaze
Sierra Nevada Porter, Porter Ice Cream Sundae with Roast Almonds, Warm Caramel andWhite Chocolate Cream
The Beer Chef's BEER AND CHOCOLATE PAIRING on Friday February 13, 2009
at The Cathedral Hill Hotel Featuring TCHO Artisan Chocolates and Fine Ales of Belgium and Britain
Reception
6:30 PM
Chefs Hors D'Oeuvre Accented with Chocolate
Blanche de Bruxelles and Young's Double Chocolate Stout
Dinner
7:30PM
First Course
Carpaccio of Seared Sea Scallop with Saffron Vanilla and "Citrus" Chocolate Sauces
Malheur 10
Second Course
Burrata Cheese with Poached Pear, Pistachios and "Nutty" Chocolate Pear Vinaigrette
Malheur Brut
Third Course
Slow Braised Berkshire Pig Short Rib with "Chocolatey" Chocolate Parsnip Flan and
Dr Pepper Jus
Malheur Brut Noir
Fourth Course
Eggnog Pannacotta, Compote of Black Mission Figs and Cocoa Nibs with "Fruity" Chocolate Coulis
Malheur 12
You can find more info and events at www.sfbeerweek.org